Santa has been kind this year! It's Christmas tomorrow and at Discount Football Kits we are bringing you one last training session before we compile every training drill of 2013 into a single document.
For this training session on pressing progressions you will need to have football bibs, footballs and football cones.
Drill 1.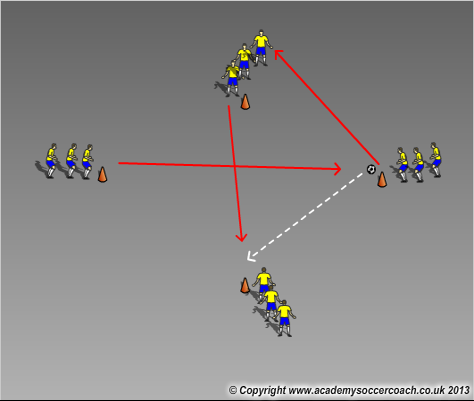 Structure:
-Set up the area as above keeping the distances roughly 8-10 yards.
Rules:
-If the ball is in front of the player he/she presses.
-The player receiving the ball must pass left and run right or vice versa.
-The process continues. I would maybe run this in hands first.
Progressions:
-Get players pressing to block a pass and then apply pressure making the play predictable.
-Once the player has blocked a pass, applied pressure they can now track the runner.
Drill 2.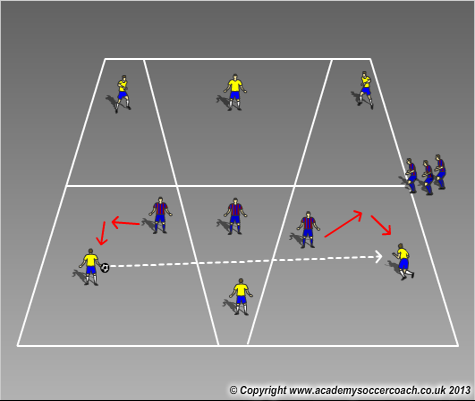 Structure:
-Set up the area as above suiting the needs of the players.
Rules:
-Players must all stay in their zones.
-Yellows have the ball and try to transfer it end to end.
-The defenders try to block passes to the opposite end and then apply pressure.
-Rotate the defenders as you wish.
Progression:
-Add players at each end to stretch the defenders (5v3).
-Remove the zones.
Drill 3.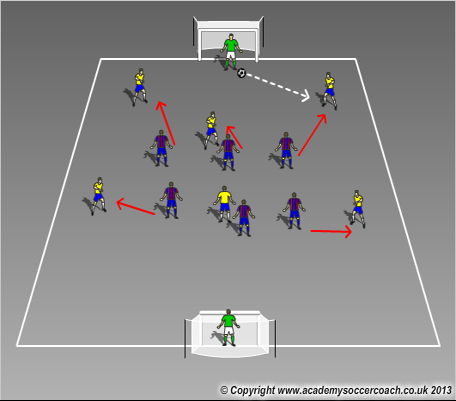 Structure:
-Set up the area as above.
Idea:
-Players obviously cannot press all the time and on the flip side you probably do not want them dropping constantly.
-The idea in this game is to get the players to identify when to press.
Rules:
-If you have no pressure on the ball the team must drop off and deny forward passes.
-If a player has pressure on the ball, then all other team mates mark man for man and deny all passing options.
-Explain that 1v1 defending needs to be unbelievable.