England has seen to be at the forefront of elite officiating, this was evident in 2010 as one of England's top referees Howard Webb became the first referee to be the man in the middle for both the Champions League final and the World Cup final in the same year.
The stigma of refereeing in England and the UK has changed in recent years, the profession is no longer viewed as something for very old men. Young men and women have expressed a keen interest in becoming the new crop of referees and the FA has no shortage of candidates signing up to become the next top referee.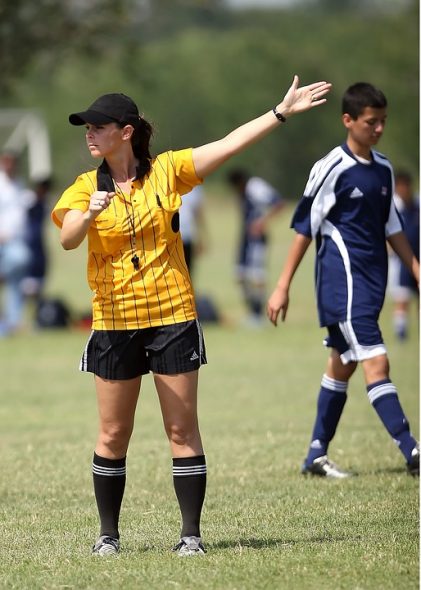 Of course, being a professional football player is the dream for many kids and becoming a referee may not be as attractive, many young adults grow up with that in mind but eventually realise the benefits of being a football referee. The enjoyment of just being part of the game, being in control of the players and being responsible for not only the player's safety but the fans and player's enjoyment of the game.
Where to start
If you want to qualify as a referee, you will need to be at least 14-years-old, live in England and successfully complete the Basic FA Referee Course.
To attend an FA referee course, you will need to contact a member of the referee development team at your local County FA.
This course will provide an introduction to the Laws of the Game as well as developing the practical skills required to be a football referee and only takes a weekend to complete and once finalised you become a qualified referee.
The Referees Course
The Referees Course aims and objectives are to provide participants with an insight to the laws of the game and their practical application on the field of play. It also looks at the skills required to be a referee.
The course consists of 6 clear units with the following elements:
Unit 1 – Registration and Pre Course Activity
Unit 2-4 – Practical Delivery and Evaluation of Performance:

The Key skills required to be a football referee
Theoretical information of the 17 laws of the game
Practical work covering implementation of the laws
The art of Positioning and movement
Management strategies and ideas on effective decision-making
Effective reporting misconduct
Evaluation of performance and Assessment Of Knowledge

Unit 5 – Officiating 5 games of 11v11 or 9v9 games

Assessment of Experiences:
Reviewing and receiving Feedback

Unit 6 – Final assessment/theory examination:

Examination of knowledge of Laws Of The Game
Climbing the ladder
Climbing up the ladder takes years of dedication and persistence not to mention an extreme level of fitness. Similar to becoming a football coach, becoming a football referee has levels:
Level 1 – National List (Football League and Premier League)
Level 2a – Panel Select (Conference Premier)
Level 2b – Panel (Conference North and South)
Level 3 – Contributory (Contributory Leagues)
Level 4 – Supply ( Supply Leagues)
Level 5 – Senior County (County Leagues)
Level 6 – County (County leagues)
Level 7 – Junior (Amateur leagues)
Level 8 – Youth (Junior Referee below age of 16)
Level 9 – Trainee
Life of a referee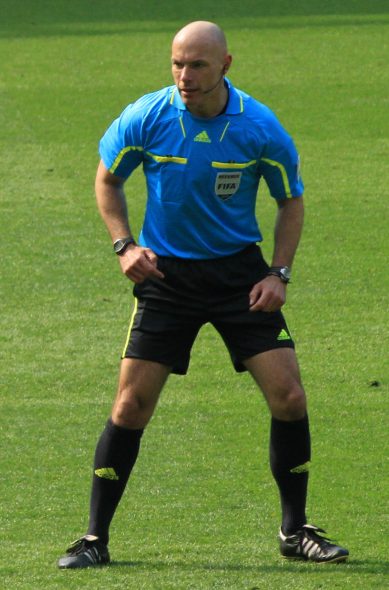 The hours of an official football referee and variable and would depend on whether you referee at amateur or professional level.
If you're officiating amateur games, they are usually played at weekends and sometimes weekday evenings. Whereas at the semi-professional and professional level, you may have to travel to grounds anywhere in the country and match times vary.
Salaries are varied but it has been reported that Premier League officials earn up to £85,000 a year and the drop to lower leagues is quite substantial. Match officials in the lower leagues are paid around £300 to £500 a match.
Match officials for semi-professional games can earn around £80 a game plus expenses and referees at amateur level earn around £20 to £40 a match.
FAQs
Q. How old do you have to be to be a football referee?
A. To become a Referee with the FA, you have to be age 14 or above. There also isn't an upper age limit but anyone working on becoming a referee will ned to be able to fully participate and be capable to keep up with the practical and physical demands of the sessions.
Q. Do referees need to be fit?
A. Fitness is a huge aspect of being a Referee, the same way it is to become a professional football player. Unlike players, referees cannot be substituted off when they become tired so fitness is a key factor in becoming a referee and they often use the beep test as training to ensure fitness levels are exceptional.
Q. Do referees need university degree?
No, to become a referee in England you will need to complete the entry level referee course with your local country FA which will see you become a qualified referee. From there you have complete a range of courses to climb the ladder and each level enables you qualified to officiate higher levels of football matches.
Q. How much money does a referee make?
A. The salary of a referee is very varied but on average referee's in England make more than referees in the rest of Europe. In the Premier League, it is reported that referees earn a basic salary of around £85,000 per year and receive estimated fees in excess of £1,000 per game. Unfortunately, the drop between Premier League officials and referees in lower leagues is quite large. The difference is due to Football League referees are not on contracts and are paid in the region of £380 a match.
Q. How much does a Premier League referee earn?
A. In the Premier League referees are paid handsomely compared to the lower leagues. The Daily Mail reported that referee's in the Premier League have a different salary set up to those in the lower leagues as Premier League referees earn a basic salary (to compensate for the summer months when there isn't any football) and also earn a set fee for every match they officiate. The numbers aren't confirmed but it has been reported that Premier League referees earn a basic salary of around £65,000 per year and receive fees in excess of £1,000 per game. Which gives an indication of the earning potential at the top of the profession.
Q. Do referees needs to wear black boots?
A. In short, no. The boots referees wear in the Barclays Premier League is down to an official's personal choice. However, FIFA insist on their officials wearing adidas for international fixtures. Even though there aren't any laws within football which dictate the colour of referee boots, it is of general consensus that boots should be predominately black. Mike Dean came under fire for his luminous green and black Nike boots as Jamie Redknapp wrote "he deserves all the criticism for wearing green boots. A ref in green boots!" Unfortunately for Mike Dean the time he decides to wear green boots is the time he makes 2 big controversial calls, one which was eventually rescinded.
Here at Discount Football Kits, we have a wide range of Referee Kits and accessories whether you're just starting out, or an experienced official. Check out our range here!