How do you become a football scout? What are the steps needed to go from regular fan to professional scout?
How many of us can answer these questions? In fact, how many people would even know where to begin researching to find out those answers?
Our article aims to provide clarity on exactly that – what it takes to become a football scout.
Background
Firstly, a misconception about football scouts is that your chances are minimal without contacts or a base in the sport.
Like any job, connections always help but they aren't the only entry route. Furthermore, when it comes to being a football scout, there is no pre-determine pathway.
Thankfully, The FA has worked to improve the entry point in this field over the last few years. As a result, The Professional Football Scouts Association (PFSA) was born, aiming to represent football scouts worldwide.
"I know how hard it is to go out there on your own. It's a lonely job and it isn't financially rewarding, and you think: 'Why can't we change it?' So we put something together." – PFSA Co-Founder Purves Ali
The Life of A Football Scout
The BBC and The Guardian have previously written articles on the working life of a football scout. Both share insight on the daily responsibilities which can include attending up to five games per week across different levels. Having a broad scope is essential for determining whether a player's talent is a suitable fit for a scout's club.
Scouting for an academy is a voluntary role, with financial rewards earned further down the line. Payments take action following a variety of events from a player signing their first professional contract to more prestigious achievements.
In addition, despite an increase in expenditure and the importance of talent development in contemporary football, scouts haven't experienced the same astronomical payment growth that other departments have. While the exact average salary for a football scout in the UK remains unknown, the figure is understood to be unproportionate. Likewise, the disparity in pay between the Chief Scout of a top Premier League club and a mid-table side speaks volumes of the situation.
Expert Opinions
Above all, for a greater overview of life as a football scout, we turned to a couple of experts who shared their opinions on the role:
"Being a football scout is not a good career choice simply because there are very few who get paid for it, let alone receive a decent wage. It is a great job though, as you get to watch a lot of football and can be proud of the fact you have potentially uncovered a future for someone else." – Jonathan Rabin, Director of The 3T Group
"If you're looking to pursue a career in football, then football scouting is definitely a step in the right direction. Talent identification is becoming increasingly more important in English football, taken by all levels within the game including management, coaches, intermediaries and of course, academy staff. All the PFSA courses are created, developed and delivered by experienced Premier League scouts. All of whom have had a successful careers as football scouts themselves." – Adam Hobson, Commercial Director of The Professional Football Scouts Association
Are There Any Football Scouting Courses?
Between The FA Level 1-5 Football Coaching, Goalkeeping or Physical Performance qualifications, there hadn't previously been any football scouting courses.
However, that all changed on December 2nd 2016 as The FA launched its Talent Identification Level 1: An Introduction to Scouting course.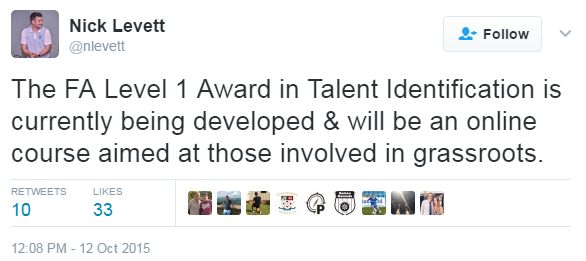 Based online, the course is suitable for anyone interested in learning more about talent identification in football. Consisting of two levels, The FA requires a minimum age of 17 from all participants due to safety regulations. Additionally, before undertaking a Level 2 Certificate, you must first have completed your Safeguarding Children workshop.
FA Talent Identification Course
"We are thrilled to introduce this fantastic new course. The FA is committed to formalising this area as a specialism, equipping more participants with the skills to realise potential. This course is a stepping stone on that journey." – Nick Baker, Learning Design & Development Manager, The FA Education
The FA Level 1 in Talent Identification: An introduction to Scouting (Online)
This course will enable learners to understand the roles and responsibilities of a modern scout. Featuring 6 short modules, the Level 1 Talent Identification course introduces you to the world of football scouting. Topics range from the understanding of a scout's responsibilities to establishing a well-rounded view of a player's potential. The basics are the primary focus here, hence the inclusion of insight into Level 2 also being delivered.
Cost: Free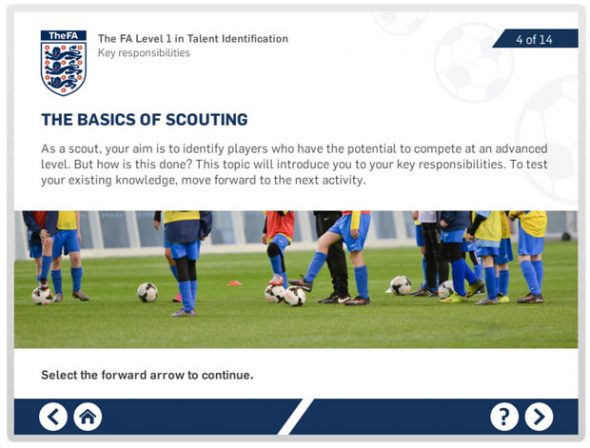 The FA Level 2 in Talent Identification
Building relationships, considering performances vs. potential and understanding the essential rules linked to the process of scouting are the focus for Level 2. Consequently, a variety of topics will help you develop skills within the scouting world, while also honing your ability to observe and assess youth players.
Content includes:
The soft skills to help you better yourself in the role
Current research on talent
Performance vs. potential
Understanding the essential rules and regulations for the job
Cost: Varies depending on venue
Professional Football Scouts Association (PFSA)
Back in 2013, two Premier League scouts together formed The Professional Football Scouts Association. It is the aim of the PFSA to liaise with all governing bodies worldwide and both professional & non-professional leagues on behalf of all member scouts. The PFSA promotes best practice and aims to raise standards, therefore making it a much-needed voice for people in this particular profession. To benefit from the work being done, a 5-minute sign-up is necessary, along with the following requirements:
Currently employed as a football scout with a club/organisation
DBS clearance (formerly known as a CRB check)
Talent Identification Certificate
Child Protection Certificate
You can gain this certificate through courses delivered by qualified, experienced coaches including football scouts from the English Premier and Football League.

PFSA Scouting Courses
The PFSA believes that football scouts deserve a governing body, similar to coaches and players. Most notably, their course aims to equip participants with the necessary tools and knowledge of talent indicators and industry format. Almost anyone with a knowledge of the game has the opportunity to file a respectable report to a club at any level for consideration after completion of the course.
Introduction into Football Scouting (Online Course)
The Introduction into Football Scouting course is aimed towards those thinking about a career in football scouting. Likewise, it delves into key areas that are considered vitally important for a football scout in the professional landscape.
Topics include:
About The PFSA (Aims and Objectives)
What is a Football Scout?
Skills Required for Football Scouting
Player and Tactical Scouts
How Do Scouts Find Talent
Match And Player Reporting
Importance Of Scouting
Talent Identification in Football
Academy Players
Football Club Development Centres
Age Specific Coaching
Scouts Protocol
How Do I Become a Professional Football Scout?
Cost: £59.99
Level 1 – Talent Identification in Football (Online Course)
Level 1 is another online course that is developed in line with the EPPP for a deeper understanding of the talent identification process.
Modules include:
About The PFSA
Introducing Talent Identification
The EPP
Talent Identification Predictors
Football Scouts and Player Reports
Talent Identification Characteristics in a Goalkeeper and the Relative Age Effect
Anthropological Predictors
Technical Skill Predictors
Psychological and Sociological Predictors
Limitations and Importance of Talent Identification
​Cost: £79.99
Level 2 – Talent Identification in Football
Level 2 is perfect for those scouts who wish to further their knowledge with an accredited certification in Talent Identification. It is also suitable for those looking to sustain a career in football scouting.
The course schedule is as follows:
Day 1
Talent Identification / Safeguarding Children
Talent Indicators and Early Predictors of Talent
Performer Profiling
Successful Talent ID Programmes and Systems for Football
Creating / Implementing Talent ID Programmes
Understand How Sporting Talent Is Developed and Maintained
The Future of Talent in Football
Overview Different Types of Abuse, Behaviour, Policies, Identifying the UK Legal Framework and a Case Study
Day 2
Player, Team & Match Analysis in Football
Role of a Scout, Scouting Protocols
Match Preparation
Video Analysis
Individual Player Reporting
Match Reporting
Team Formations
Player Assessments and Identifying Strengths and Weaknesses of a Player
Course Length: 2 Days (Saturday & Sundays only)
Cost: £600
Level 3 – Player, Team and Match Analysis
The Level 3 course will provide you with the knowledge to:
Complete a detailed match report
Discuss different types of match report analysis
Review different formations the opposition may use
Explain and produce a completed full team player report
Complete a detailed review of a team's strengths and weaknesses to beat and nullify the opposition.
Demonstrate how to complete set play reviews, both attacking and defending
Review of computer software for recording set plays and writing report
Course Length: 1 Day (Sundays only)
Cost: £300
What's Next?
Finally, you cannot underestimate the skills, time and effort needed to be successful.
Importantly, towards the end of 2016, The FA finally dedicated resources in creating a course that leads to gaining this licence. Holding a basic knowledge and a burning passion could mean gaining your Talent Identification Certificate is vital.
Even though the cost will be higher (approximately £1040 for the complete course), the PFSA are a great alternative. And once you've completed the courses, the organisation will try their hardest to find you a suitable club in your area. The PFSA's emergence can only be a positive thing for football scouts due to the the claim that "as a member of the PFSA, you will be part of the only organisation representing football scouts worldwide."
Above all, experience is crucial. Gaining your qualifications and any important skills along the way are only minor steps. Therefore, try putting your skills into practice by volunteering at your local grassroots club. Visit multiple games at various levels, write reports and continue to showcase your talents. Then maybe one day you'll be gifting the world the next footballing prodigy!