Drill 1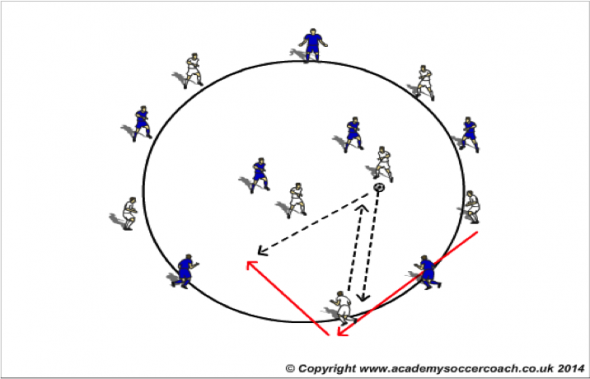 Structure:
-Set up the area as above suiting the needs of your players and numbers available.
Rules:
-The game starts with 2v2 in the middle.
-The rest of the players are on the outside.
-If the players in the middle combines with the outside players using a 3rd man run then that player can join the middle.
-The 3rd man run must be completed using one touch passes. Example.
Player passes outside, the player receiving the ball passes back to either player inside. As this is happening another player on the outside has to overlap the outside player who received the pass and then receive it from the inside player. He then stays in the middle if the routine is performed successfully.
-If a team visit the outside and this is not done successfully normal play resume and numbers stay the same.
-Play by time or the first to get all their players inside the circle.
Drill 2.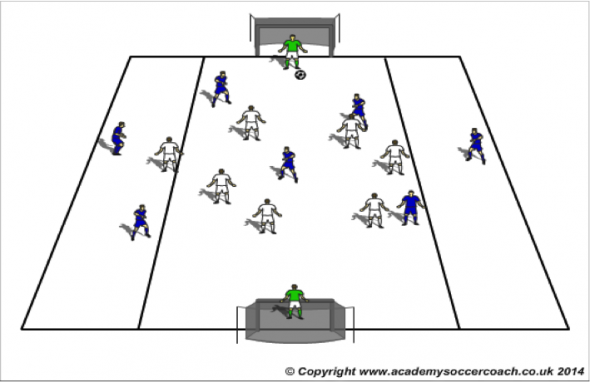 Structure:
-Set up the area as above.
Rules:
-Match rules
-In possession a team can only play one touch in the middle section.
-In possession a team can have as many touches as they need in the wide area.
-These conditions will encourage quick play using forward and backward passes.
Progressions:
-Try reversing the conditions. As many touches in the middle as you like, and only one touch in the wide areas.
Discount Football Kits have some great deals running on footballs that can be used for Louis Lancaster training sessions.