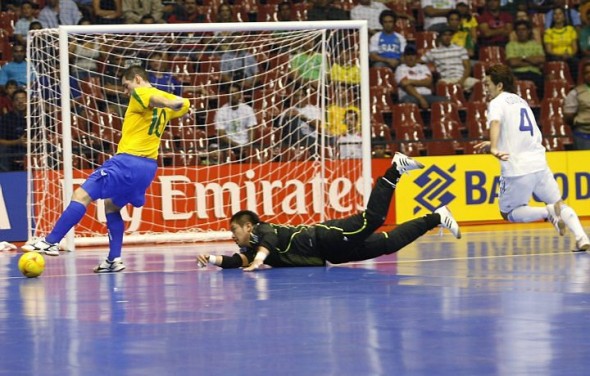 When I first got involved in futsal I was told by one of the club chairmen that I would make a lot of friends in the game. He was not wrong and if that was all I took from futsal, the lifelong friends I've made, the laughs we've had, the winning and the losing, that would be enough, but futsal is more than that. OK its 5-a-side football, but it's so much more than that too.
When you put 10 players on a small court, give them a ball that stays predominantly on the floor, tell them to work within touchlines and give them a smaller goal to aim at, it brings out the best in players and coaches alike. Add to that an FA National League giving access to the possibility of playing for England and now you have a great sport.
Players can't just bang it off the walls, they have to learn quickly to use the low bounce to good effect and they understand the need to make decisions quickly, think about the weight if their passes, cope with keeping possession in tight spaces and when they know their team mate has only seconds on the ball, they pretty soon learn to work really hard off the ball to give him those passing options.
Meanwhile the coach is on the touchline with a wry smile and a knowing look on his face as he sees the tactics he wrote down on a piece of paper a week ago acted out at breakneck speed.
Pitch-side the spectators are being treated to an end to end game of football with goal attempt after goal attempt punctuated by moments of breath-taking skill.
If you love football and haven't tried futsal you're in for a treat.
A word of caution though, don't go thinking this is just 5-a-side because if you do you'll see the experience pass you by. It's not till you and your players understand the tactics, how to use the ball, the demands on fitness and the ultimate team game that futsal really is that you reap the benefits.
To get the max from the game you need to be quick, skilful, decisive, disciplined, extremely fit. Yes skill is king, but not at the expense of teamwork. Skill is the bit of magic that turns heads and changes games but all that can be thrown away if the team doesn't function as a unit. We attack as a team, we defend as a team, we work hard on the ball but we work twice as hard off it. There's up to 12 players available with unlimited roll-on roll-off substitutions so we can run ourselves ragged, come off, recover, get back on and do it again.
Time wasting, what's that? The ball goes out, the clock stops and once you have control you have 4 seconds to get play back on so no point arguing with the ref or the game goes on without you.
This is the game that taught Messi how to play football and basically if you can play futsal, then football with all that space, a nice bouncy ball and plenty of time to make decisions, get your breath back and clear your head, is easy.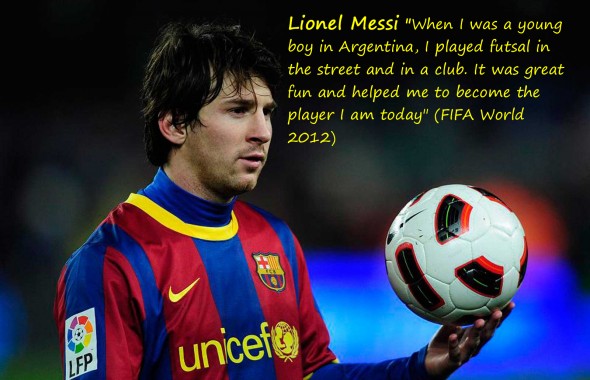 Image right: vervesports.co.uk
In futsal you learn everyone's position, your team is on the attack, you're all attackers, your team is defending, and you're all defenders. Everyone is constantly involved in the game, even the 'keepers, no hiding place, concentration and effort at 100% at all times.
To sum-up futsal I'd take the words of so many football coaches these days…
-Play it on the floor.
-Pass and move.
-Play in triangles.
-Support your teammates.
-Maintain concentration.
-Work hard on and off the ball.
-Keep possession, because if you give it away the opposition will punish you by creating a scoring chance in seconds.
And boy is it fun!
So if you're sick of bouncing giant tennis balls off the walls and ceiling of your local sports hall all winter, spend a few quid on a futsal ball, get them to play within the touchlines, give them 20 minutes to get used to it then try to get them to change back. Too late, they're hooked! Better still, join a local league.
Oh and watch the difference when they play football on a Saturday.