The ball starts centrally.
The players work the ball one side and then to the other.
This can be done either directly or by linking. There are many combinations.
Once the ball has been switched the three players involved in the process run to the box to finish for goal.
Players can return to their station or move to another, this is totally up to you.
To spice it up you can bib the players into two different colours. First to ten goals should do it!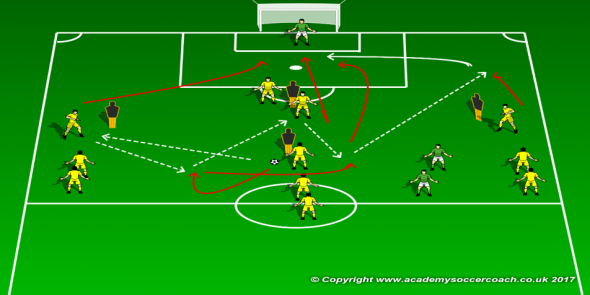 Progression
Set up the size of the area to suit the needs of your players.
Ideally you need three teams and they don't have to be equal.
One team is due to attack a cross whilst another defends.
If the team score they head on down to the other end.
If the defending prevent a goal they must play out through the central joker. The joker then will play it out wide to produce the cross for them to score.
The process continues.
This is a great game to really highlight the delivery, movement, timing of the runs and the contact. On the flip side the defenders need to also be at their best.