Play like Portugal– Pressing High
1 – Unopposed pressing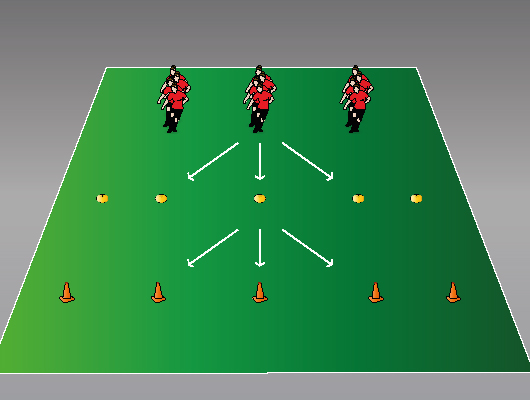 Set-up
3 Groups
Cones set out as above – Space between each cone should be 8 yards
Coaches command first three players press the coaches chosen areas.
Commands
Press! – Opposite Cone
Press Right! – Nearest diagonal cone to the right
Press Left! – Nearest diagonal cone to the left
Press Again! – Second cone pressures – Blue
Recover! – Track back
Key points
Fast Reactions
Body Shape when pressing
Players don't dive in
2 – Opposed Pressing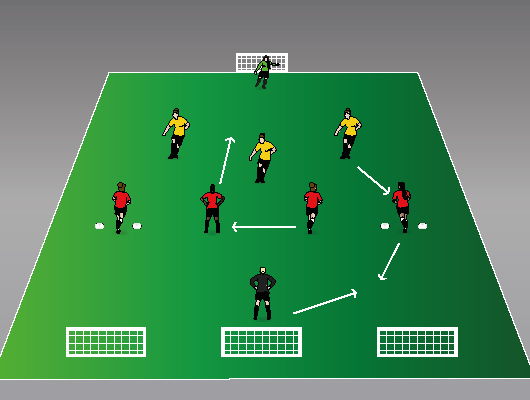 Set-up
4 Goals
2 Goalkeepers
3 Defenders
2 Wingers – 2 gates for each winger
2 Midfielders
The practice begins with two centre midfielders, attacking the 3 defenders and aiming to score against the goalkeeper.
If the defending team win possession of the ball they must then pass the ball out wide to either of the neutral players who then both attack the centre midfielders in a 2v2 situation and aim to score in one of three mini goal.
Key Points
Transition
Shape
Speed
Reaction
3 – Transition using wide areas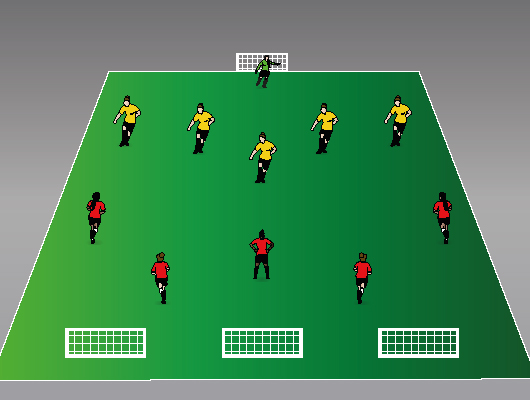 Set-up
5 Defenders
4 Attackers
2 Wingers – for the attacking team
3 mini goals
1 Big goal
Team with possession should always try and use the wingers, when the defending team regain possession of the ball they should play out wide early to the two wingers who must then score in one of the small goals.
Key point
Create space
Play out wide quickly
Determination
Fast Reaction
Must always encourage 1v1 in wide areas.
Here at Discount Football Kits, we have an wide range of training accessories available to purchase, to help improve your training sessions. Check out our accessories here!