In 2016, The FA revised their Level 1 and 2 Coaching courses. This decision was made to help address requirements of the modern game.
"The new Level 1 course provides more individual guided support throughout, and will help the coaches develop an understanding of their own ability." – The FA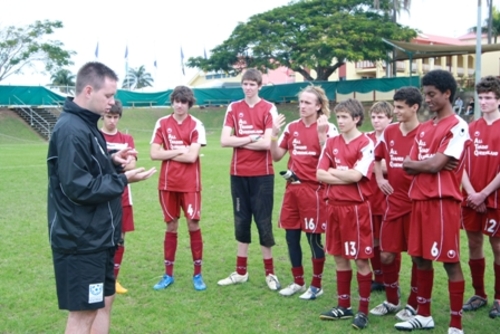 Image right: http://www.theuksportsnetwork.com
People decide to get involved with football at grassroots level for a variety of reasons. Whether it's the desire to form a career within the football coaching world. Stepping in when your child's team needs a new coach. Or there being a burning desire to expand on your knowledge of the game. Whatever your reason, the coaching ladder has a number of different paths.
But whichever route you choose, it will always start with The FA Level 1 Certificate in Coaching Football.
What is The FA Level 1 Certificate in Coaching Football?
The FA Level 1 Certificate in Coaching Football is described by the Lancashire County FA website as: "[Providing] an introduction to the organisation and delivery of safe and enjoyable coaching sessions for players. The course will introduce practical drills to develop players' technical skills such as shooting, turning with the ball and heading. It is ideally suited to those working with groups of young players."
An FA Level 1 coach will usually work alongside an FA Level 2 or UEFA B qualified coach as their assistant. To enroll onto the course you must be at least 16 years of age. Furthermore, you must hold a current FA Emergency Aid Certificate and have attended The FA Safeguarding Children Workshop as a minimum. But don't let that dissuade you. These two 3-hour workshops are provided as part of the course.
Level 1 is made up of seven workshops that look at those key elements of the DNA and an eighth which looks at safeguarding and emergency aid. The course has 33 contact hours with FA tutors, as well as a set number of written tasks that need to be completed away from the course. To pass the course, candidates must complete all the tasks within their log book and deliver a 20-minute practical coaching session which is assessed by the FA tutors.
Upon sign-up, learners receive a number of resources that can used as guidance and support throughout the duration of the course.
These resources include:
Learner Pack
Introduction to Coaching Booklet
Introduction to Long Term Player Development, Four Corner Model Booklet
Grassroots, Club & Manager Resource Booklet
Introduction to Coach DVD
Coaching Players: A New Approach DVD
Learner Resources CD-Rom
Interactive CD for Coaches & Referees
Candidates keep these resources following completion of the course, serving as long-term learning resources for future development.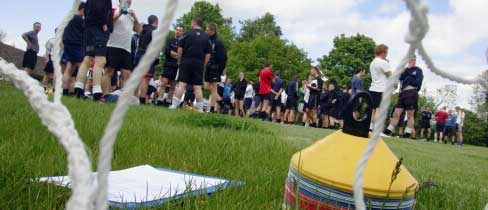 Course Aims and Objectives
Learners will gain an insight into the English game, dissecting how it's played, and how coaching can better support the development of future players.
Learners will gain an insight into the game in England, how it's played and how they can coach to better support the development of future players. The qualification is designed to prepare learners to coach football at the grassroots level.
Through the completion of the learning programme for this qualification, learners will be introduced to the practical and theoretical aspects of planning, delivering and reviewing individual football coaching sessions. The foundation level of knowledge and skills developed through this qualification will enable learners to create safe, fun and engaging coaching sessions through building, developing and extending a series of linked practices.
Learners will be introduced to basic game formats, key rules, and the England DNA coaching fundamentals and playing principles through completion of four mandatory components; How We Coach, How We Play, The Future Player and How We Support.
Throughout the course learners will be introduced to:
England's DNA – How We Coach, How We Play, How We Support and The Future Player
The FA 4 Corner Player Development Model which will help them gain a better understanding of the long-term development of their players as a whole person
The FA Plan, Do, Review Model, helping them construct appropriate practices and sessions for their players
A series of practical coaching ideas, giving them the ability to recognise the various ingredients that make up safe, fun and engaging practices to help their players develop
Practical coaching opportunities both on the course and where possible with their own players and teams
The course of learning is made up of eight guided learning; face-to-face workshops covering a range of topics linked to the England DNA, as well as some directed learning opportunities via three e-learning modules hosted on The FA Learner Management System (LMS). The e-learning modules cover core topics including the role of the coach, long-term player development and The FA Plan, Do, Review model.
Course Content
The course will introduce some key aspects in the following:
Player and coach development
The FA's Respect Programme
Laws of the Game
An introduction to The FA's Long Term Player Development Model
An introduction to Football for All
The course will also provide (as seperately organised workshops) the following:
FA Emergency Aid
FA Safeguarding Children in Football
How Much Does The FA Level 1 Coaching Course Cost?
According to the FA, prices for the FA Level 1 coaching course will vary between County FA's due to regional variances in venue costs and funding availability.
Prices normally range from £150 – £235 but don't let the price deter you, as often county FA's receive funding which they put towards discounting the cost of the FA Level 1 coaching course, so be sure to always check your County FA.
You can find your local County FA here.
What's Next?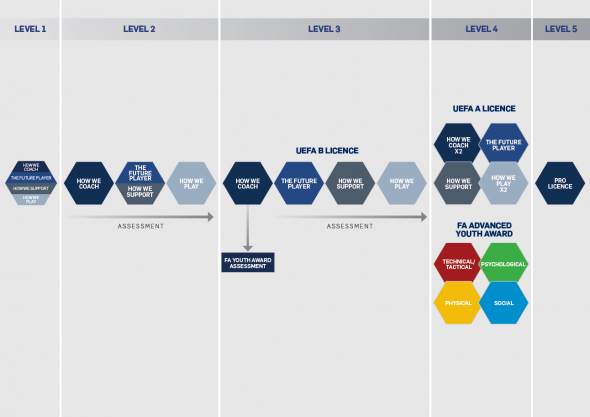 Upon gaining your Level 1 Certificate, there are a number of available routes. Taking your Level 1 Goalkeeping certificate is one. While climbing further up the ladder and enrolling onto the Level 2 Certificate in Coaching Football is another.
The Old FA Level 1
Below is an overview of the FA Level 1 course prior to the changes made on August 1 2016:
Task 1
In total there are seven tasks to complete throughout the course. The first is called "Young Player Development". Candidates begin by reading a couple of chapters from one of the provided booklets. Then they must describe the benefits of Mini Soccer to young players.
For those that do not know, Mini Soccer is part of the new FA Youth Development that is being phased in at Grassroots Football. It involves having smaller pitches and team sizes at a younger age group within football.
Here are its formats:
| | |
| --- | --- |
| Under 7's & Under 8's | 5 v 5 |
| Under 9's & Under 10's | 7 v 7 |
| Under 11's & Under 12's | 9 v 9 |
| Under 13's Upwards | 11 v 11 |
Candidates must also explain how how Mini Soccer will make the game more enjoyable for players. Finally, the difference between player characteristics as they progress through the age groups, along with symptoms of overuse injuries is a required discussion.
This task provides candidates with a good platform to understand the FA's future vision for the game.
Task 2
The second task is titled "Club Coach and Manager's Support". Once again candidates are required to read through a chapter from one of the booklets provided. The written part requires candidates to outline the key duties/responsibilities of a club manager. There are three parts to this task: pre-match, during the match and post-match.
The second part is group based, asking for key elements that need to be considered when a club or individuals plan a football festival/tournament.
And the final part of the task introduces candidates to The FA Licensed Coaches' Club. This relatively new addition offers candidates multiple benefits such as sharing the best practices in their work. It also allows them to watch coaching masterclasses by FA employees and to win England tickets at Wembley. In addition, the club runs annual continuous professional development courses. These help coaches build upon their knowledge year after year.
Task 3
"Respect and Responsibilities to the Game" make up the third task. Candidates are required to complete an online FA Respect module. The second part of the task requires candidates to list a variety of individual roles within football. Afterwards, a list of which code of practice/conduct/behaviour applies to them and why is requested.
Task 4
The fourth task "Football for All" has two options. Candidates can either complete The FA Equality and Diversity module digitally or manually. The manual option is for those without access to the online module and involves reading a section from the resource book before answering a set of multiple choice questions.
Task 5
Task five is titled "Plan and Deliver a Football Coaching Activity Session". This task is a practical assessment, requiring candidates to plan, deliver and evaluate a coaching session. The task is assigned to them from the "Introduction to Coaching" booklet by the course tutors.
Firstly comes the planning of the session. This includes deciding on the age range of the players, their ability level, medical information, the equipment needed and any warm-up and cool down activities.
They must then plan the session itself, complete with diagrams, written descriptions, coaching points and timings for each activity.
For the final part, candidates receive feedback from their tutor, filling in a variety of questions. These questions evaluate the session and explore improvements for future purposes.

Image right: thefa.com  
Practical
There are 12 sessions within the "Introduction to Coaching" booklet. These sessions all have an underlying theme based around the basic techniques footballers need. All sessions encourage players to have fun, which involves receiving lots of touches of the ball in a well-structured environment. Techniques such as heading, dribbling, passing and shooting are used. There is also encouragement towards players to get their heads up and communicate with others around them.
Reflection
The FA Level 1 Certificate in Coaching Football gives candidates a good platform to get onto the coaching ladder. Although sessions are basic, they are a solid foundation for application across all age groups. Level 1 sessions can be used with older players as part of warm ups inside a larger session.
Newly qualified Level 1 coaches should seek a more qualified coach to work alongside, using them as a mentor. This would make the whole experience, including feedback on their own sessions, far more enlightening.
If you have completed the Level 1 Certificate, or are thinking about starting the course, we would love to hear your thoughts. Simply leave a comment below!