A detailed guide of the FA Level 2 Certificate in Coaching Football.
Updated 6th February 2017.
In 2016 the FA revised the Level 1 and 2 courses to help address the requirements of the modern game. Lasting up to four days, the majority of the Level 1 course is spent developing the required coaching skills on the pitch, with supportive tasks now available digitally.
"The new Level 2 course lasts 10 days over three different blocks of learning and has been re-shaped to better reflect what's required to coach specifically within youth football. It combines content from the existing FA Level 2 Certificate in Coaching Football, with elements of The FA Youth Award Modules 1 & 2. It has been put together with new content from The FA's coach competency model." – The FA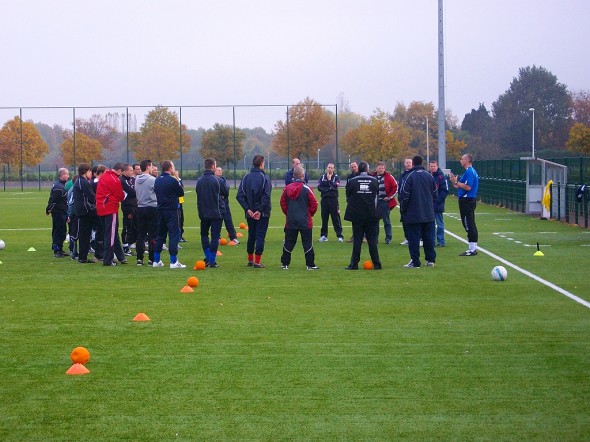 image right: act2prevent.com
So you have completed your FA Level 1 Certificate in Coaching Football. You have gone away and delivered content from the course, you have now revisited your course pack, looked at your action review and now you have decided you want to learn more. It maybe a few weeks, a few months or a few years since you did the course but the big question is: Which Course to do next? The next step up the coaching ladder is the FA Level 2 Certificate in Coaching Football.
So What is the FA Level 2 Certificate in Coaching Football? The Lancashire FA website states 'The Certificate offers an opportunity for potential football coaches to be supported in developing the knowledge of how to effectively plan, conduct and evaluate football coaching sessions.   It will also introduce the candidates to an appreciation of the principles of the game, both attacking and defending, and how to utilise this knowledge for invasion games.'
An FA Level 2 qualification in sport usually allows the holder to lead sports sessions on their own, with assistance from other coaches. The FA Level 2 Certificate in coaching football takes what has already been learned on the FA Level 1 course and goes into greater detail. With the integration of The FA Youth Module 1 and 2 courses, which will offer a more streamlined and blended approach to learning and development, giving learners a comprehensive understanding of both the 'how' and 'what' of football coaching.
Course Duration
145 hours (total qualification time) / 73 hours (guided learning)
What do the courses look like?
Each level of coaching course has four different components:
How We Coach.
The Future Player.
How We Support.
How We Play.
These have been brought into one block for The FA Level 1 in Coaching Football and into three separate blocks for The FA Level 2 in Coaching Football.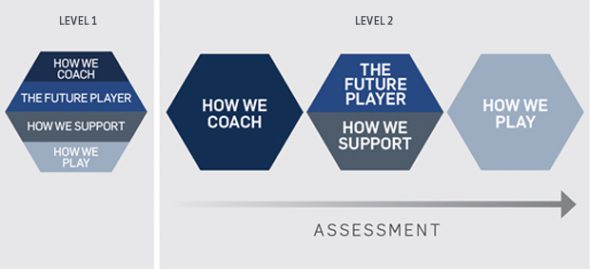 The course is underpinned by the ethos of allowing the players to feel included, empowered and to be able to make mistakes. It is about designing relevant game-like practices with plenty of decision-making that enables the players to practice in an environment that's positive and enjoyable. This course is designed to prepare learners for employment as a football coach with the ability to put these key ideas into practice. As a FA Level 2 football coach, learners will be able to plan, deliver and evaluate a series of linked and progressive football coaching sessions independently.
This course will cover key issues in coaching while putting the players and their learning at the centre of the choices that coaches make. It will help learners to reflect on, realise the impact of, and justify the decisions they make while encouraging a long-term view on player development. The course will examine what effective and great practice looks like in training and competition, right the way through the player's journey from under 7 to open age, across the various formats of the game, helping coaches to consider the age, ability, maturity and experience of the players in their care.
The course of learning is made up of 20 guided learning, face-to-face workshops covering a range of topics linked to the England DNA, split into three blocks of learning (Block 1 – How We Coach, Block 2 – How We Support and The Future Player, Block 3 – How We Play).
Differences between Level 1 and Level 2
There are quite a few differences between Level 1 and Level 2. The first differences are the length in the course. Level 1 will be made up of seven workshops, which will look at those key elements of the DNA and an eighth which will look at safeguarding and emergency aid. At Level 2 we'll have three blocks of work, which between them will involve 20 workshops with the DNA and focused on those core themes.
Within these new course structures, the learner experience has also undergone a number of improvements as The FA seeks to provide a more tailored approach to suit individual needs.
How much does FA Level 2 coaching course cost?
According to the FA, prices for the FA Level 2 coaching course will vary between County FA's due to regional variances in venue costs and funding availability.
Prices normally range from £200 – £370 but don't let the price deter you, as often county FA's receive funding which they put towards discounting the cost of the FA Level 1 coaching course, so be sure to always check your County FA.
You can find your County FA here and contact them directly
Advice
If I could offer any advice to anyone who is considering enrolling for the course it would be…do it. Although the course is a lot more in depth and is a lot more work then level 1, it challenges you to evaluate your coaching. Furthermore, you will learn a different style of coaching as well as being introduced to the principles of play. Information learned can be taken away and implemented into your sessions as your club.
The final piece of advice I can offer is to practice. On your level one you are required to organise and deliver a session in a safe environment. Level two requires you to do everything asked of you on your level one as well as demonstrate your knowledge through technical coaching. This requires you to recognise when to correct a player's technical ability within the session. The best way to gain experience of this is to practice stopping sessions your deliver, at the right and appropriate time to help correct and coach your players. If you practice the level two syllabuses away from the course you will also understand the syllabus and therefore be prepared when it is time for your assessment.
What next?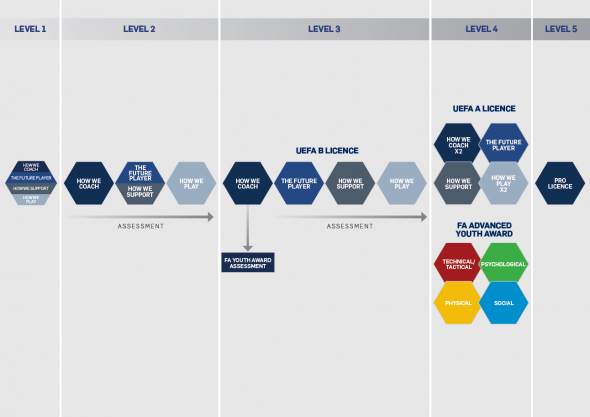 Upon passing the course, your next steps up the coaching ladder can take numerous of directions. You can take the next step up and apply to enrol on your UEFA B (Level 3) course or you could also enrol onto your level 2 Goalkeeping award.
I hope you have enjoyed reading this article, my next one will take a look at the UEFA B certificate in coaching football and what is involved in the course including both practical and written tasks.
If you have completed the FA level 2 certificate in coaching football, or are thinking about starting the course we would love to hear your thoughts. Simply leave a comment below.
The old FA Level 2
Below is an overview of the FA Level 2 course prior to the changes made by the FA on the 1st August 2016 which gives a good insight to how things use to be to gain the the FA Level 2 in Coaching Football certificate.
Theory
The course will introduce a number of key aspects related to the role of a football coach in working with youth players. These are delivered via home based study tasks and Tutor delivered workshops. The course will introduce some key aspects in the following:
The roles, skills and qualities of a football coach
Developing session plans and associated information for planning
Awareness of safe and organised activities
Preparation for potential accidents, illnesses and emergencies
A consideration of coaching styles
Coaching session evaluation and self-reflection
Nutritional needs of football players
Fitness components related to football
The planning of progressive coaching sessions.

Practical
The practical elements of the course will provide the following:
The principles of attacking to include creating and exploiting space
Passing
Support Play
Ball Control
Dribbling
Running with the ball
Turning
Goalkeeping
Finishing
Heading
The principles of defending to include denying and restricting space
Defensive play when organised and outnumbered
With all FA course there are pre course requests that a candidate needs to meet. The pre course requisites for the FA Level 2 Certificate in Coaching Football are:
Be at least 16 years of age
Hold as a minimum a current FA/HSE Emergency Aid Certificate
Have attended The FA Workshop 'Safeguarding Children in Football' (candidates under the age of 18 years are eligible to complete The FA Child Protection Distance Learning Module 'Safeguarding Children in Football – A Guide' as an alternative to the workshop). For those with proven experience and knowledge in this area, Accreditation of Prior Learning (ALP) may be offered.
The course in its entirety is 75 hours long. This is split over 10 days. Six of the days are learning days, where the tutors deliver the majority of content. After six weeks, the next two days are support days for candidates. The final two days are the assessment days. To pass, the course candidates must complete the candidate log book and deliver a 35 minute session on a topic from the course syllabus and must meet a set criteria for assessment.
Now I will look at the various tasks within the candidate log book.

Task 1: Roles. Skills and Qualities of a Football Coach
The first task looks at Qualities of a Football Coach. The tasks consists of five activities:
a)      Briefly Describe why you want to be a level 2 coach
b)      What are the different roles a football coach can perform?
c)      Briefly describe the skills and qualities of a good football coach
d)     What do you think you currently do well as a football coach?
e)      What areas would you particularly like to improve as a football coach?
Candidates are encouraged to discuss these points with fellow candidates. This task requires the candidates to self evaluate. In my opinion this is a key thing to introduce candidates to, as all good coaches will self evaluate and look for feedback from their peers throughout their careers.

Task 2: Information Needed to Plan football Coaching Sessions
This task requires candidates to discuss the variety of things that are needed to be considered before planning a coaching session. Candidates need to discuss three things for this task.
a)      Type of information you need to gather to effectively plan a session
Time
Resources
Facilities
Special needs of players
Ability Level
b)      Likely source the information will come from
Parents
Players
Previous Coach
Welfare Officer
c)      From the above, coaches are required to list things they would consider for their next session with a group that they already work with.

Task 3: Introduction to the Long-term Player Development (LTPD) Model and Planning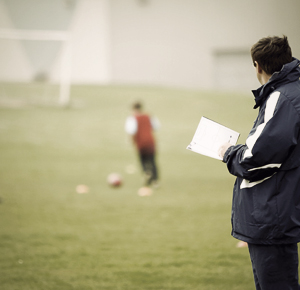 image right: thefa.com
This tasks introduces candidates to the FA's four corner model. The four corner model is used throughout FA coaching course from level two upwards and is included in all the Youth Modules, Level Two and UEFA B courses. The four corner model looks at various outcomes of a session within the four corners. The four corners are:
Technical
Psychological
Physical
Social
For this task the candidates are given two scenarios and must write outcomes relating to each scenario within each corner of the four corner model.
The two scenarios are:
a)      Using the 4 corner model, identify three outcomes that would be included in each corner for an inexperienced group of nine year old's.
b)      Using the 4 corner model, identify three outcomes in each corner for an experienced group of 13 year old's.
Task 4: Develop a Session Plan
For this task the candidates are in groups and have to develop a full session plan within their groups. They are given a scenario to help with the planning of the session.
'You have a one hour football coaching session with a club junior squad of 16 under 13 year old boys. One boy has asthma and two have mild learning difficulties'. The session is due to take place on the 25th October 2007 at the All Stars playing field, which is regularly checked by the grounds man, and there are not expected to be any particular health and safety issues.
The action plan point that you gave from yourself from the last session was to make sure that you got the equipment for the session out before the players arrived. The last session that you did with the squad focused on individual defending. You now want to follow it up with defending collectively to improve cover and support.'
Candidates are provided with a session template which includes:
Information on the players
Information on facilities and resources
Session Warm Up/Cool Down
Session Plan
LTPD 4 Corner Model
The session is planned using the level 2 syllabus and format of: Technique – Skill – 4 v 4 Small Sided Game (SSG).
Task 5: Accidents, Illness and Emergency Procedures
This task is done away from the courses. The task is split into two parts. The first part, the candidates are given three scenarios:
An adult player suffers a minor injury (eg cut, bruise, strain)
An adult player suffers a major injury (eg broken bone, suspected concussion, asthma attack)
A child player becomes ill (eg vomiting, headache, sore throat, dizziness)
Candidates must explain what would be the key actions they would take in order to deal with each incident.
For the second part of the tasks candidates are given two emergency situations that they may have to react to when coaching:
A fire Alarm
A missing child
Candidates must once again write the procedures they would follow for each of the situations.
Task 6 – Report Accidents
This task relates to task 5. Candidates are required to use two accident templates and fill in about two injuries that they have dealt with when coaching.
The accident report forms include:
About the injured person
About the person reporting the incident
About the accident – When and where
About the accident – what happened?
Additional information
Task 7 – Coaching Styles and Effective Communication
This tasks looks at Coaching Styles and Communication in more depth improving upon knowledge gained from the level 1 course.
Candidates are required to work in small groups, discuss and answer questions about Coaching Styles and Effective Communication.
Coaching Styles
a)      Identify and describe the different styles of coaching you have received or observed other coaches using.
b)      Can you identify which is/was the best style and why?
c)      Why should every coach have a range of styles to utilise?
Effective Communication
d)     Discuss and list what you consider to be features of effective communication in football coaching.
e)      Give two example of how you might have to adapt your communication to deal with a player who has a particular need (eg a hearing impairment or learning difficulty).

Task 8 – Observed Assessment of Practical Coaching #1 Assessed Practical Task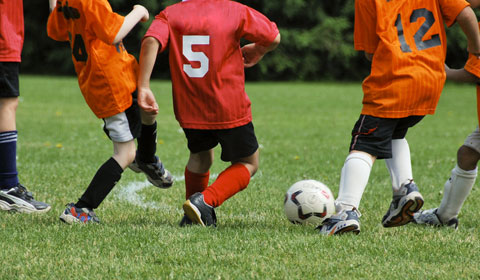 image right: ultimatesoccercoaching.com
For this task Candidates are assigned a topic from the Level 2 syllabus. They have to plan a coaching session based around the topic using the level 2 syllabus. Candidates then must coach twenty minutes of the session. Candidates are assessed and given feedback by one of the tutors for the course.
The session plan includes:
Information on the players
Information on facilities and resources
Session Warm Up/Cool Down
Session Plan
LTPD 4 Corner Model
Evaluation
Task 9 – Session Evaluation and Self Reflection
This tasks looks at Self Reflection and Evaluating sessions. Candidates work in groups, discuss what they know about the tasks before completing the following tasks:
a)      Make a list of components of a coaching session that you always think should be evaluated.
b)      List the different types of people from whom you might get feedback – feedback that should contribute to your overall evaluation.
c)      Identify the key areas that the Coaching Session Self Evaluation form requires you to evaluate. Record the personal action points that you might identify in a Personal Action Plan, resulting from your review of the evaluation criteria.
Candidates are also encouraged to share their evaluations with other candidates.

Task 10 – Equitable Practice and Codes of Conduct
For this task candidates are required to read the FA respect Code of Conduct. From this they will use a template provide to answer the following:
a)      Summarise the key areas that the RESPECT Codes of Conduct cover.
b)      Identify one area or component of practice that you think coaches in your sport might be challenged by.
c)      What other guidance is available to direct the appropriate behaviour of other people in football? This might include players, parents, officials, etc.
This task is done at home away from the course.
Task 11 – Nutritional Needs of Football Players
For this task Candidates work in small groups.
They are firstly required to keep a 24 hour food diary, they must record everything they eat and drink as well as listing what type of nutrient the food is.
Once they return to their groups, they share their findings and complete the following tasks.
a)      What are the different components of a healthy diet for someone participating regularly in football?
b)      Why is it important to maintain fluid levels during training and matches?
c)      Write a sort guide for players summarising the rules of good eating and drinking for football.
Task 12 – Football Fitness
This is an assessed group discussion.
In their groups candidates must:
a)      Identify the six key components of fitness and put them in a priority order that reflects the needs of footballers.
b)      Discuss why it is important to warm up players prior to training and games.
c)      Identify the purpose of a cool down after a coaching session.
d)     Design an appropriate warm up for a group of 12 year od boys participating in a one hour session focusing on passing on grass, in winter.
Task 13 – Plan four linked and progressive Coaching Sessions.
This task is done away from the course, at the coaches clubs. The coach must plan four sessions using the level 2 syllabus. The sessions need to link and follow on from each other.
Each session must have completed paper, which is provided in the candidate pack. For each session candidates must fill out the following on the paper work:
Information on the players
Information on facilities and resources
Session Warm Up/Cool Down
Session Plan
LTPD 4 Corner Model
Evaluation
After the first session candidates are advise to reflect on the session and try to improve upon what didn't go well in the previous session.
An example of four linked sessions are:
a)      Short Passing
b)      Long Passing
c)      Support Play
d)     Switching the Play
Task 14 – Plan Coaching Sessions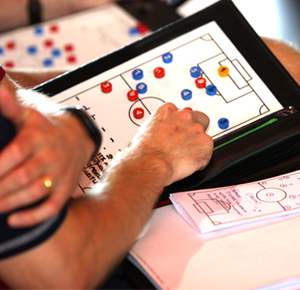 image right: Sheffield Fa
This task continues on from task 13. Candidates are required to plan and deliver eight more sessions, after the four linked sessions. They will fill out paper work for each. This will bring the total amount of sessions delivered away from the course to 12. Candidates are encouraged to deliver a wide range of topics from the level 2 syllabus.
Task 15 – The Coaching Experience Log
This task also relates to task 13 and 14. Candidates must completed a Health and Safety checklist for each of the sessions they deliver. They must also complete a coaching log including:
Session Delivered
Where it was delivered
A coach who witnessed the session
The coaches contact details

Task 16 – Observed Assessment of Practical Coaching #2
This task is the final practical assessment. Coaches are assigned a topic from the syllabus at random. They must complete the relevant paper work and deliver a 35 minute session using the technique – skill – SSG process. Candidates are assessed by a tutor and must be deemed competent in the following four areas:
Session Organisation
Session Management
Technical Coaching
Communication Skills
If a candidate is deemed competent in the four areas and has completed their log book then they pass their FA Level 2 Certificate in Coaching Football.