What is the UEFA Nations League? International friendlies are often talked about with great disdain, particularly by those associated with the English game. Whether it's an inherently British quality or not, there's clear rationale behind this widespread dissatisfaction towards international breaks.
More sporting meaning during these periods is something that players, coaches and supporters alike wish to see addressed. Friendly matches are deemed to not provide adequate competition for national sides which ultimately brings tournament preparation, fan motivation and team development into an ambiguous area.
But this could all be about to change following UEFA's announcement on Wednesday 11 October which revealed details for the inaugural UEFA Nations League which will make its debut next year.
This rejuvenation supposedly stems internally from the desires of UEFA and its 55-member associations who are looking to dramatically improve the quality and standing of the game on an international level.
What is it and how does it work?
The UEFA Nations League is the Union's solution to meaningless international fixtures. Instead of uninspired and ineffective friendlies between compliant countries, the tournament will pit similarly ranked teams against one another with both immediate and long-term benefits on offer for successful nations.
The tournament's format will feature four leagues which incorporates both promotion and relegation. League A includes the top-ranked teams in Europe while League D includes the lowest. The rankings for each league are in accordance with UEFA's national association coefficient rankings on October 11, 2017.
The league lineups are as followed:
League A: Germany, Portugal, Belgium, Spain, France, England, Switzerland, Italy, Poland, Iceland, Croatia, Netherlands
League B: Austria, Wales, Russia, Slovakia, Sweden, Ukraine, Republic of Ireland, Bosnia and Herzegovina, Northern Ireland, Denmark, Czech Republic, Turkey
League C: Hungary, Romania, Scotland, Slovenia, Greece, Serbia, Albania, Norway, Montenegro, Israel, Bulgaria, Finland, Cyprus, Estonia, Lithuania
League D: Azerbaijan, FYR Macedonia, Belarus, Georgia, Armenia, Latvia, Faroe Islands, Luxembourg, Kazakhstan, Moldova, Liechtenstein, Malta, Andorra, Kosovo, San Marino, Gibraltar
The UEFA Nations League Phase Draw will take place at the SwissTech Convention Centre in Lausanne on 24 January 2018 to determine who will play who. Leagues A and B will consist of four groups of three teams. League C will comprise one group of three teams and three groups of four sides while League D will be formed by four groups of four teams.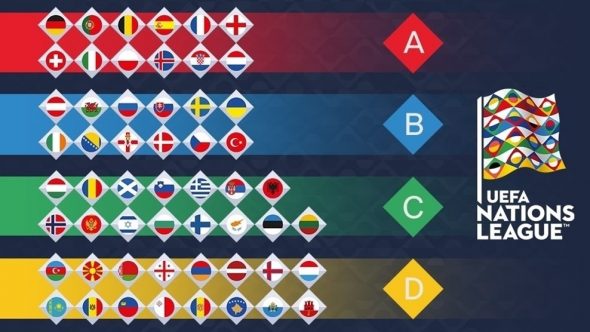 Why the UEFA Nations League could be a step in the right direction
The overall UEFA National League rankings will determine the composition of the draw pots for the subsequent European Qualifiers which could potentially offer incredible possibilities, particularly for the lower-ranking sides.
As European qualifying currently stands, any team can face any other nation which doesn't necessarily pose a significant problem for the larger countries but does however, majorly affect teams that find themselves at the lower-end of Leagues C and D.
Allowing this league to have a significant effect on upcoming European Qualifiers also lends real weight to UEFA's decision to go all-in. In addition to this aspect, it will also provide teams with another chance to qualify for the UEFA Euro final tournament. 16 sides will partake in play-off matches in March 2020 and the four winners will earn themselves a place at the summer's finals.
The UEFA Nations League has also made Euro qualifying far more streamlined. Ten groups will be assembled with the top two teams in each group qualifying automatically, and the other four places being awarded to European Qualifiers play-off winners.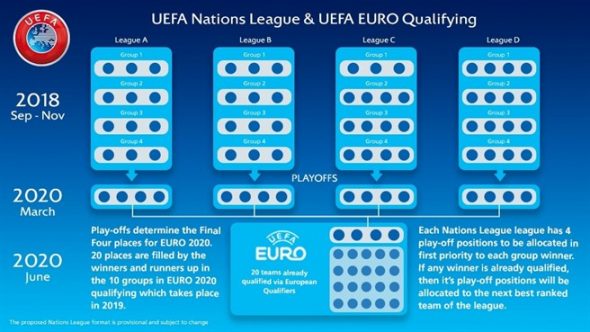 There is an incentive for all nations within this UEFA Nations League which helps give it a strong footing even before a ball is kicked. On paper, teams at the top of the pile and others at the foot of the rankings are given equal opportunities to qualify in their own achievable ways. Out of the bottom 16 countries in the rankings, at least one is guaranteed one of the 24 qualifying slots.
We will also see more balanced matches being played. Very rarely are we subjected to international fixtures in a competitive capacity being played between two evenly-contested teams – at least a lot less than we'd like to. The gulf in class seems to extend itself further as the years go by but this new system could aid nations in their development and progression.
And the last benefit – good or bad depending on where you stand on the subject – is more football! Even years feature either a World Cup or Euro tournament in each one. UEFA's thinking was to introduce a competition in every odd year too. They assure that this new UEFA Nations League tournament will not produce a fixture congestion and will actually see players returning to their clubs from international duty earlier than was previously the case.
UEFA have assembled a solid schedule and implemented a firm structure for the build-up to Euro tournaments offering fans, players, coaches and associations genuine incentives for not only the upcoming finals the following summer but also for the future of international football as a whole.