The UEFA Nations League draw has taken place with England being drawn against Spain & Croatia. Immediate panic started on social media with England fans worrying about their chances of qualifying. However, much confusion surrounds the new Nations League and how teams qualify. So, exactly how will England Qualify for UEFA EURO 2020? Firstly to clarify, no automatic qualification places for EURO 2020 are made via the Nations League. The Nations League is simply to give teams more realistic rankings and eliminate the non-competitive nature of some international friendlies. Secondly, the Nations League is
not
replacing the traditional method of qualifying for Major tournaments via qualification groups. This qualification stage process does not begin until
March 2019
, consisting of 10 matchdays which conclude in
November 2019
. In this, the top 2 sides from each group automatically qualify for UEFA EURO 2020. So what is the point in the Nations League? The top 2 sides from each group in the Nations League will be rewarded with a guaranteed play off spot in the European play offs. To put it simply, if you do well here you have another chance of qualifying via the play offs should you fail to finish outside the top 2 in your European Qualifying Group Campaign. Think of it as a safety net. For example, If England finished top of their Nations League Group, but then went on to finish 3
rd
in their European Qualification Group, their performance in the Nations League means they would qualify for the European Championship play offs. Let's take a look at England's Journey to EURO 2020.
4 Games Home & Away vs Spain & Croatia
Teams in their group play each other home and away (6 matches) Fixtures*:
England
vs Croatia Croatia vs
England
Spain vs
England
England
vs Spain Spain vs Croatia Croatia vs Spain *Fixture dates and sequence TBC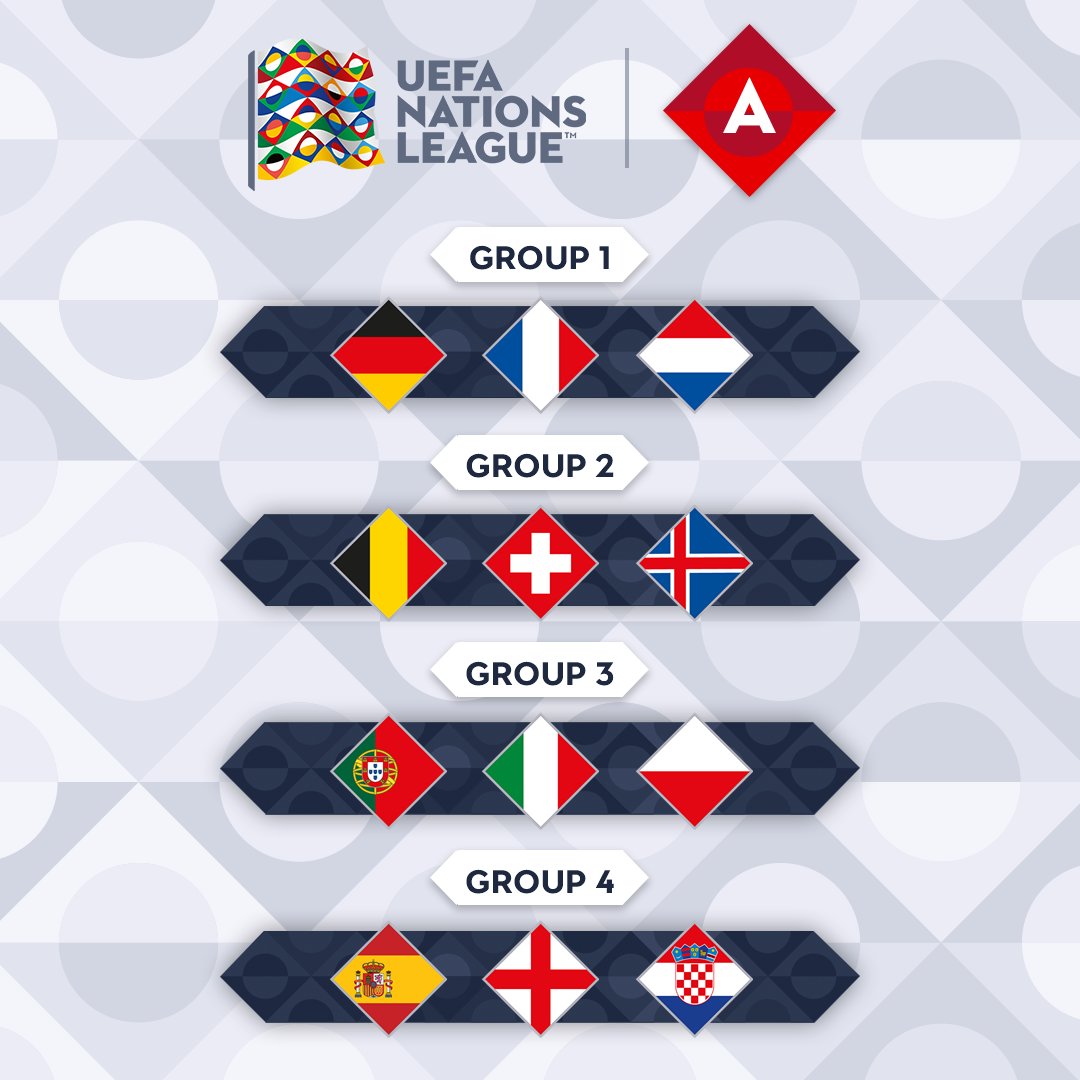 BEST CASE SCENARIO –
England win the group By finishing top of the Nations League Group England will be guaranteed at least a play off spot to qualify, should they not qualify from the European Championship Qualification Campaign. They will also be entered into a final four tournament featuring the 4 group winners from group A, which will be played in the summer, in between World Cup & Euro years (So at least football fans would have something to watch in the summer!) Winning this tournament doesn't affect qualification chances, and is simply for the best European sides to compete for a piece of silverware – a rather nice piece too!
WORST CASE SCENARIO –
England finish bottom of the group By finishing bottom of the Nations League Group, England would not be guaranteed a play off spot for the European Championship. They would also be relegated into Group B for the next round of the Nations League, which would be for the 2022 World Cup. The Nations League concludes on 20 November 2018, where group winners are decided (16 teams guaranteed at least a UEFA EURO 2020 qualifying play-off).
European Qualifiers
With the Nations League Concluded, the European Qualifiers draw will be made on the 2
nd
December, where England will discover their other 5 group opponents These matches will take place during the following international breaks: 21–26 March, 7–8 & 10–11 June, 5–10 September, 10–15 October & 14–19 November 2019: European Qualifiers group stage (ten matchdays)
BEST CASE SCENARIO
England win the group – By winning their respective group, England would win qualification for EURO 2020 and would also be placed in the group winners pot for the finals draw, theoretically giving them more favourable opponents in the group stage of UEFA EURO 2020. England would also automatically qualify by finishing as runners up in the group. However, they would be placed in the runners up pot for the finals draw, which would guarantee playing at least one group winners within the group stage of UEFA EURO 2020.
WORST CASE SCENARIO –
England fail to finish in the top two of their group. If England fails to secure a qualifying spot in the European Qualifiers, focus will then shift back to their performance in the Nations League. If they won their league, they will advance on to the play offs stage automatically. However, if they didn't win their group, they will not automatically qualify for the playoffs. However, there is a chance they can still qualify for the play offs. If a nation wins both their Nations League Group and secures either 1
st
or 2
nd
in their European Qualifying Campaign, their play off spot will become available, and be awarded to the next best performing team in their league. However, if there are not enough teams in the same league, then the group winners will be replaced by the next best team in the overall ranking, but group winners cannot face teams from a higher league. So, England could qualify through this sequence. However, should their performance in the Nations League be poor, there's a possibility that they will not qualify for the play offs at all. The draw for the finals of UEFA EURO 2020 will take place in early December of 2019.
26–31 March 2020: European Qualifiers play-offs
The play offs will consist of 16 teams. These 16 teams will compete into a knockout tournament consisting of a single legged semi-final before the final 8 teams compete in a single legged final with the 4 winners winning a place at EURO 2020. The venue for the semi-final is decided via which team has the higher Nations League ranking, with the final decision by a draw.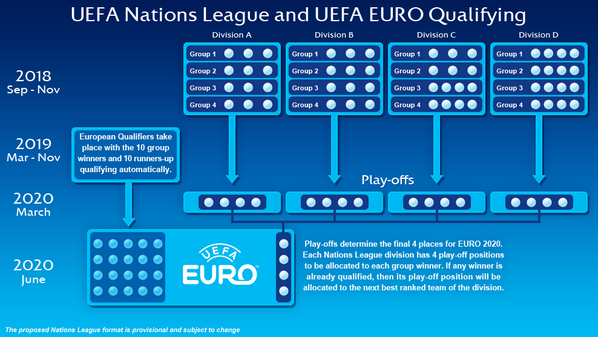 12 June–12 July 2020 (provisional): UEFA EURO 2020 final tournament commences.
Given the talent in England's current side, as well as their recent record in qualifying campaigns, they are more than capable of qualifying with ease. The introduction of the Nations League will improve the odds of lesser Nations qualifying for a tournament, but still gives ample opportunity for Europe's elite to secure their place. Where do you think England will finish in their Nations League Group? Let us know below!