The  Watford U15's football coach takes us through 3 transition games. The equipment used  in these games includes footballs, football cones, and football goals.
Game 1.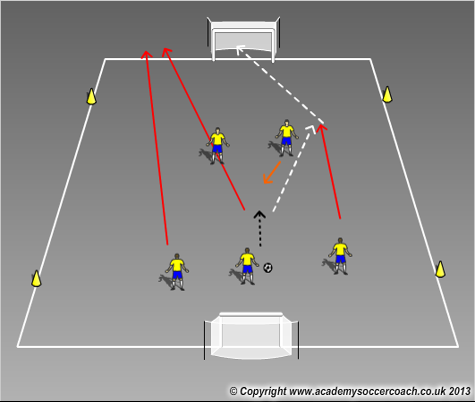 Structure:
-Set up the area as above.
-NO BIBS.
Process:
-3 v2 towards goal.
-They can only score once past the yellow cones.
-Whoever shoots/scores now becomes the defender in a 2v1 situation against the previous defenders.
-The two defenders try and score  down the other end.
-The other two who were previously in the three attackers now go to the top line.
-The process now repeats 3v2 once again.
Game 2.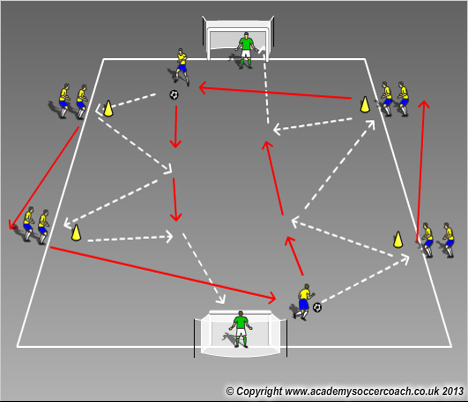 Structure:
-Set up the area as above.
Process:
-The practice is symmetrical.
-The player with the ball plays a wall pass with the players on the side.
-Once they shoot they join the bottom station on the other side.
-The first wall passer moves to the next step.
-The second wall passer then becomes the player with the ball down the next side.
Game 3.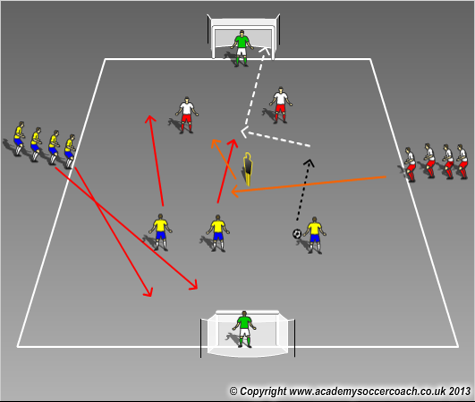 Structure:
-Set up the area as above.
Process:
-The yellows attack the white 3v2.
-As they cross the half way line another white player joins in from the side to make it 3v3. They must run around the mannequin.
-As the yellows enter the opposition half two more yellows join the other end ready to defend the next phase.
-Once the yellows 3v2 is finished the same process continues, but this time whites attacking yellows 3v2.