A newly reformed Glasgow Rangers has been refused entry back into the Scottish Premier League.
Should they have been allowed back in?
In which league should they start again?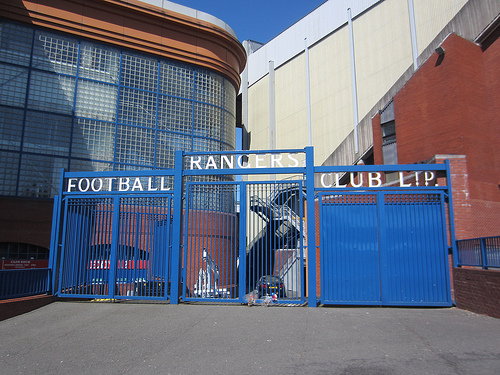 A majority vote by all the clubs in the SPL was required in order to let the 'new' Rangers back into the top flight, with sanctions. However, 10 out of the 12 clubs voted against this, with Kilmarnock abstaining from voting and Rangers voting for themselves.
This now means that a similar vote has to happen by the clubs of the Scottish Football League on Friday 13th. Could it be unlucky for Rangers?
If they survive that vote, the iconic blue football kit of Glasgow could face the ignominy of starting its new life in Division Three. It also means that Glasgow Celtic has an opportunity to dominate the SPL in a similar way Manchester United have dominated the English Premier League.
Rangers went into administration and will face liquidation after their unsecured debts of £134 million were unpayable, even if they were to sell all of their players, football training equipment, and other assets. This not only led to a 12-month transfer embargo for the club, it also terminated their contract with the Scottish FA and the Scottish Premier League.
Former Sheffield United chief executive Charles Green stepped in with a consortium package of £5.5 million to purchase the club's assets, including everything from the ground to the football nets and footballs. However many players, including some Scottish internationals, have refused to transfer their contracts over to new conditions from the old Rangers. This means that not only will Rangers probably have to work their way back up to the SPL on merit and ability, but they also have to do it with half of their squad missing.
Speculations about who could replace Rangers in the SPL include recently relegated Dunfermline, or second divison runners-up Dundee as most likely candidates.
Whoever replaces them, it is a tall order to live up to. Rangers's time in the SPL has been one marred with controversy concerning the electric and often violent Old Firm derbys between themselves and Celtic, mixed with success and football trophies.
Whichever league they start again in, the SPL will sorely miss them.
Image Rights: daniel.richardson0685