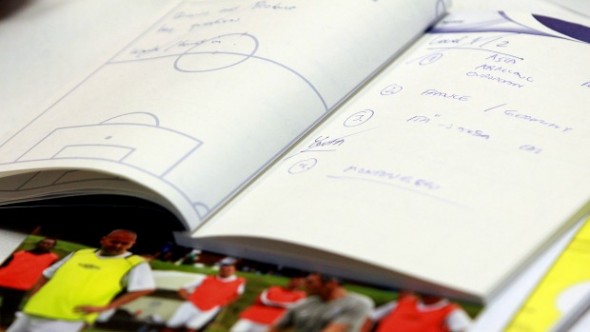 image right: www.norfolkfa.com
Traditionally, progress up the coaching ladder had four stages. Level One through UEFA B and UEFA A, then onto the Pro Licence if you were lucky enough to be selected. However, there is now an alternative option since the Football Association rolled out their FA Youth Award a few years ago with the aim of allowing coaches to supplement the core coaching pathway with the youth coaching pathway.
You can view the FA Coaching Pathways and Provisions by following the link.
The course itself is split into three four-day modules where you're taught practical and theoretical elements, with a strong 'player-centred' approach aimed at raising young players' self-esteem. At the end of these modules you're assessed, and if successful you'll receive the FA Youth Award and can add it to your burgeoning CV.
This comprehensive guide will show you precisely what you'll need to do to achieve it.
This article will focus on the first module: Developing the Environment.
FA Youth Module1: Developing the Environment
The Manchester FA's website (www.manchesterfa.com) sums the course up:
"Awarded by The Football Association, the FA Youth Award – Module 1 provides candidates with an opportunity to greatly enhance their knowledge and confidence in developing young football players between 5-11 years of age. The award will focus as much on the 'HOW' a coach works with a young player as it will about the 'WHAT' of a coaching session."
Course Info
Minimum Age: 16 Years
Course Duration: 32 Hours contact time
Price: Online Booking £150 Per Candidate
Pre-requisites: FA Level 1 Certificate in Coaching Football or FA Level 2 Certificate in Coaching Football or Qualified Teacher (QTS)
Who is this course for?
This course is open to anyone over the age of 16 who wish to enhance their skills, knowledge and understanding while coaching young players aged 5-11 – widely recognised as the most important developmental age group. The course is especially beneficial if you coach or teach this age group, since should you wish to progress, it's the first step to further 'youth specific' course opportunities via the FA Youth Awards – Modules 2 & 3 or an FA Level 2 Coaching qualification.
What can I expect from the course?
32 hours in duration, managed by an experienced and fully qualified FA Tutor, the course is typically delivered across 4 days and involves both theoretical and practical elements. This is the first course that looks specifically at the child and where they are developmentally in respect of the 'four corners' (Physical, Psychological, Technical and Social) before creating football coaching sessions through a number of exciting new activities tailored to the child. This course marks a progressive change in coaching philosophy, creating a truly 'player-centred' approach to the coaching and development of your young players.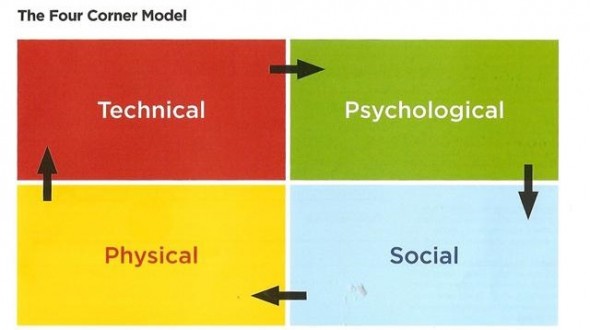 image right: shiltonsoccer.com
On completion of the course, you'll be able to:
Understand the importance of a player's 'Social' behaviours and how it links with the 'four corners' model.
Understand how players learn.
Motivate & improve self-esteem.
Manage mistakes.
Manage Physical, Technical, Psychological and Social differences.
Plan Activities.
Practical elements of the course will provide an introduction to:
FUNdamental warm-ups (Physical corner)
Practical activities & games
Pre-Course Reading
Before you even start the course you'll receive a pre-course reading booklet. This gives you an insight into what the course is about and has questions for you to answer before you start. This helps you to refresh your memory or get to grips with the content.
The booklet has five chapters
1)      Fundamentals in the development of young players
2)      The physical and physiological development of young players
3)      Aspects of growth and development of young players
4)      Motor control
5)      Too much too soon – the risks of overuse injuries in young players
For this section I'll only briefly summarise each chapter as it'd be better for you to read the material when you enrol in the course.
Fundamentals in the development of young players'
This chapter is all about the FUNdamental phase, which is between the ages of 5 and 11. This age is where players are most likely to learn and develop fundamental skills such as agility, balance, co-ordination and speed – not just through football but through everyday life and playing as children do.
Key points from this chapter are:
Fundamental stage occurs between 5-11
95% of a child's neural development is achieved by 10 years old
The physical and physiological development of young players
The main objective of this unit is to: 'Offer guidelines and recommendations regarding the physical and physiological recruitments of young developing players.' (FA)
Key points from this chapter are:
Development – it must be tailored to the INDIVIDUAL
Growth Concepts – there are optimum times when aspects of fitness training should be introduced and introducing them at the wrong time can have a negative effect on a young player's development
Physical corner has many aspects to it, all of which need to be focused on during the FUNdamentals stage, and in the appropriate way.
A player's biological age may differ to their chronological age.
Aspects of growth and development of young players
This chapter is all about 'growth' and 'maturation'.
Growth refers to an increase in the size of the body.
Maturation is the journey towards the mature or adult or biological state.
Key points within this chapter are:
People grow and mature according to different timescales
Parts of the body grow at different rates with the result that the relative size and weights of tissues and organs change.
The principles according to which adults train and play cannot be directly applied to young players, but must be adapted according to their stage of development.
Motor Control
The focus within this module is motor control and how it fits in with a child's physical development. It also looks at how good or bad motor control may impact a child who is trying to develop a new skill.
Key points within this chapter are:
Motor development is the process by which a child or young player acquires movement patterns and skills.
A motor pattern is the basic movement involved in the performance of a particular task.
Fine motor activities refer to movements requiring precision and dexterity e.g. catching a small ball
Gross motor activities refer to movements of the entire body or major parts of the body.
Too much too soon – the risk of overuse injuries in young players
'Overplay' is the term used for this and and as the word suggests, it occurs when a person participates in too much physical activity over a certain period of time and becomes injured because of it. This can lead to overuse injuries, which develop over time due to overly repetitive activity.
Conclusion to the Overview
When I enrolled in the course and the pre-course reading came through I was a little reluctant to do it. However, once I'd read it and answered the questions I felt like I had a better understanding of the content. My fellow candidates didn't read it and struggled to grasp some of the content early on. My advice would be to take an hour or two to go through it and answer the questions without looking back at the chapter; this way you'll know what you picked up and what you didn't, making your course experience more beneficial.
The course
As mentioned earlier, the course is 32 contact hours. These hours are spread across four days, usually in the same week or over consecutive weekends. On the first day of the course you'll receive the FA Youth Award file. This has sections for each module and is something you take with you through every module.
You'll also receive two booklets:
1)      Learner resource pack
2)      Learner pack
Throughout the course, there are eight tasks to complete. These tasks cover all four corners from the FA four corner model: Technical, Psychological, Physical and Social. The order these tasks are completed in will depend on your tutor, their delivery and your environment, but they will all be completed after the four days.
Task 1 – The Social corner workshop.
This task involves watching a DVD clip, after which you're asked to observe the coach and identify how s/he addresses issues related to player development.
The second part of the tasks looks at the relationship between the coach and parents. For this you'll be given hypothetical scenarios, after which you'll be asked to write down what effect you think each one had on the players. For example:
i)                    Both the coach and parents applaud a good player in the opposing team
ii)                  The coach tries to give each player equal playing time
Task 2 – 'How players learn' workshop
This task is the first of three within the Psychological Corner. As the title suggests this task is based around learning styles. For this you'll be asked to write down the techniques you could use to present information to players with the following learning styles: Physical, visual, auditory and reading.
For the second part of the task you'll need to complete a questionnaire in order to discover your own learning style.
Task 3 – The 'FUNdamentals' workshop
This task is the only one from the Physical Corner in the module.
This task introduces the candidates to the FUNdamentals and goes into a lot more detail than the pre-course reading did.
For it you'll be required to answer a series of questions, providing examples of where agility, balance and co-ordination occur during a game; as well as to explain the concept of Football Functional Movements and once again provide examples e.g. passing, heading, shooting.
Task 4 – 'Motivation' workshop
This is the second task arising from the psychological corner.
This task looks at the reasons why children play football. It will also require you to look at your own practice and look at ways you, as a coach, may de-motivate your players either intentionally or un-intentionally.
Task 5 – The practical games
 Image right: www.cumberlandfa.com
This task is ongoing through the course. For this you'll be required to write about one of the practical games you've seen and describe how the game supports the development of technique.
The practical games you'll see throughout the module include:
1)      The skills corridor
2)      Space recognition
3)      Dribble or pass
4)      Pass and move
5)      Score first and win
6)      Risky business
7)      Decisions
All the games are designed for players aged between 5 and 11 years old and they look to incorporate repetition and fundamental movements. The games can be adapted and used to suit older players and the needs of your own players as well.
Task 6 – Self Esteem workshop
This is the final task within the Psychological corner. It looks at areas including:
Why having good self-esteem is important for young players
How you can tell if a child has high or low self-esteem
How promoting high self-esteem may affect the way you coach your players.
Task 7 – 'Managing mistakes' workshop
This task is the second task within the social corner.
This task looks at two key areas:
1)      Ways in which the candidates can use their coaching sessions to create positive environments
2)      Ways which candidates can manage mistakes in sessions differently.
Some examples from my course include:
Creating a positive training environment
Encourage players to try new things
Task 8 – The planning activity
For this task, candidates are split into groups of three or four and are assigned a game from the practical syllabus. They must plan and deliver it to the group and must consider the following:
Size of playing area
Number of players
Equipment
How to introduce the learning outcomes to accommodate different learning styles
How to increase or decrease the activity
How to link the activity to the four corners model.
This is not an assessed session, it's simply an opportunity for candidates to practice and have a go at delivering content from the Youth Module 1 syllabus.
Conclusion
I found the Youth Module 1 to be an eye-opening experience. Traditionally, coaching courses are designed to show you coaching techniques but not how to use them. This course lets you explore the 'how' by allowing you to come up with your own ideas based on the needs of the players you work with.
I would strongly recommend this course to all budding coaches. If you've completed your FA Level 1, I would look to do your Youth Module 1 next, before considering your Level 2 qualifications. The same goes for coaches higher up the pyramid: this course will allow you to take knowledge you've gained and alter your delivery style to suit your players' needs within their environment.