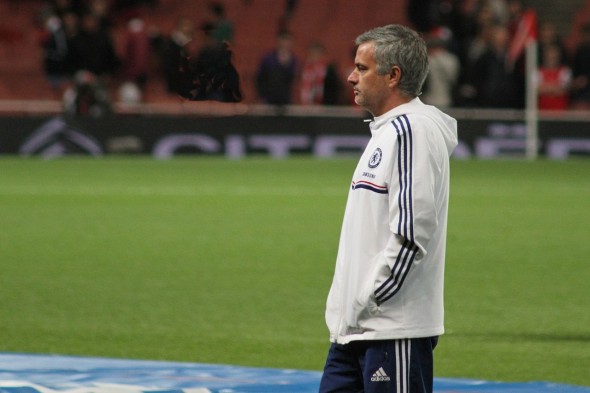 The aftermath of Chelsea's 100th home league game under the stewardship of Jose Mourinho was supposed to feel a lot different. It wasn't supposed to have ended the way it did. Press rooms around the world had trundled out a plethora of manicured statistics and flashy figures in deserved celebration of the "Special One"; his record in charge of the Blues at Stamford Bridge had clearly been as special as his nickname suggested, and it was expected to continue in a similar vein.
Before their 2-1 defeat to Crystal Palace, the Pensioners had lost just once at home – against Sunderland – with Mourinho guiding them safely in the Premier League. They had become a paragon of consistency and guile. They were almost unstoppable, empowered by an angsty mentality that shielded them from competitors. Winning close to their fill of titles, they had built a mini legacy via the often prickly Portuguese manager.
Prior to kick-off against the Eagles, it was almost expected that this would be a day for Mourinho to bask in his own brilliance; yet another opportunity for his charismatic charm to cut through the gloom that had enveloped them since the start of the season. It was all but signed, sealed and delivered that the Londoners would emerge victorious.
Like a rude guest, Palace paid little heed to these house rules and kick-started their very own celebration, gate-crashing the party before it had even started. Playing with flair and guts, it was they and not Chelsea who exited the do feeling exhilarated and fresh. The Blues, on the other hand, looked a little worse for wear, clearly over-doing it on the pre-match booze that had been the glorifying stats, charts and facts.
Were Chelsea a victim of their own slack play? Had the reigning champions really been as poor as the match suggested? Were Palace just plain lucky, or had they executed the perfect plan?
Opinion will differ, as it always does. What is clear is that the visitors deserved their three points and will feel jubilant at having pulled off a massive shock win.
As for Chelsea, they will not be panicking yet, even as Manchester City pull clear in the early stages of this season's marathon. Ultimately, they still have plenty of time to claw their way back into contention and make up for their early campaign jitters; it's not as if there weren't any positives to take from their recent loss, although Mourinho might just have to break with tradition if he's to re-jig their spirit soon.
In short, youth could well prove to be his saving grace.
Robert Kenedy, the exuberant Brazilian who was introduced as a substitute in the second half at the weekend added real zip and dash to their offensive endeavours while Eden Hazard and Cesc Fabregas spluttered and coughed attempting to keep up with proceedings.
Sure, history suggests that a Mourinho-led Chelsea rarely gives opportunities to their less experienced players but drastic times often call for drastic measures, and that time may well have already arrived.
With as many as 26 players out on loan across 10 countries, settling quickly into this squad has rarely been an easy task, but the likes of Kenedy always have a point to prove and the 19-year-old starlet will be eager to instigate some aggressive upward growth through the ranks.
During pre-season, many pundits went with the London-based club as their favourites for the title. 'If it's not broke, don't fix it' seemed to be the general tune hummed by the masses at the time. Now, the perspective has changed somewhat and after a century of games wowing the Bridge's faithful with near perfection, it might well be time for Mourinho to spice things up more vigorously than ever before.
It doesn't have to be a permanent change of mentality, but if the rot intends to be stopped before it becomes too late, a little bit of refreshment certainly can't hurt.