Practice 1.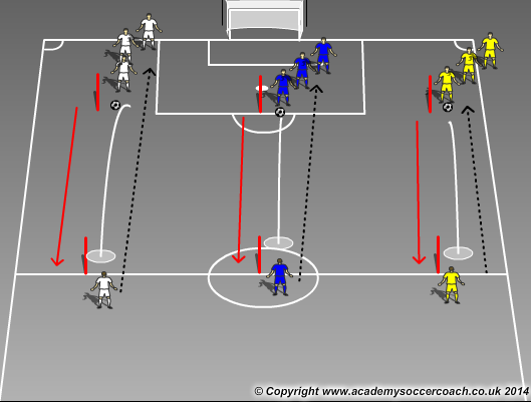 Structure:
Set up the area as above suiting the needs of your players and numbers available.
Rules:
Three teams.
It is the first team to hit their pole.
The first players attempts to hit the pole.
They then run to the pole to receive the next pass.
The player receiving the pass dribbles the ball back and gives it to the next player.,
The process continues until there is a winner.
Challenges:
Move the pole closer or further away.
Hit the pole on the floor or on the full.
Passing combinations when returning the ball.
Practice 2.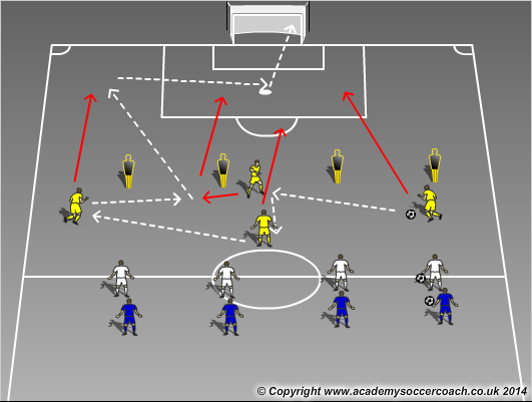 Structure:
Set up the area as above.
Rules:
3 teams, they do not have to be evenly split.
The yellows pass and move towards goal.
They can only go past the mannequins once they have completed 15 passes.
Once the yellow have an attempt at goal they then travel back to the half way line passing and moving once again.
Whilst the yellows are on their way back the next team set off making 15 passes before they have their attempt at goal.
The idea is that this create traffic.
This process continues.
Challenges:
Forward pass, followed by a backwards pass.
Visit both sides of the pitch before beating the mannequins.

You can buy the equipment and football team kits needed for this training session here at Discount Football Kits. We stock the four major kit brands Nike, adidas, Prostar and Stanno.