Session 1.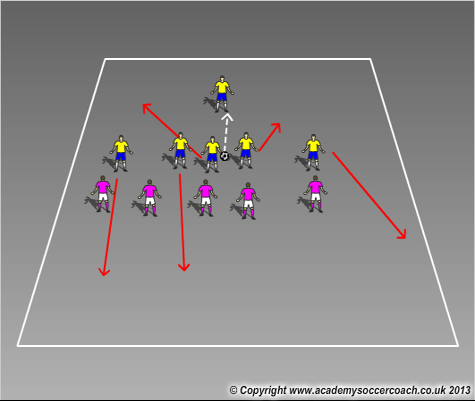 Structure:
-Set up the area as above keeping the (40x30yards
Rules:
-To score players must run the ball over the end line with the ball in hands.
-A team has 3 plays. They can only run and pass the ball (not kick).
-They can pass  and run in any direction.
-The defending can only tag the player in possession. Once they do this, play stops and they attacking team lose a play. (remember they only have 3 plays).
-If the attacking team drop the ball that results in a turnover.
Session 2.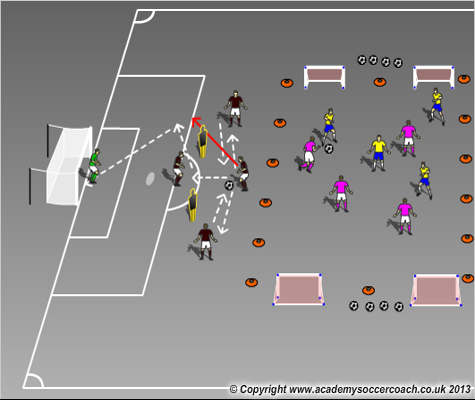 Structure:
-Set up the area as above. The 4v4 was 30x25yards.
4v4
-Two teams having a fight.
-3 minute matches.
-A team plays 2 games and then off.
-First team to win 5 matches.
Shooting: (Resting Team)
-Central player uses the wide players to move the ball laterally across the pitch.
-At any time they can play a forward one touch pass and combine with the striker for a wall pass, to then produce a shot at goal.
-Players move around.
Session 3.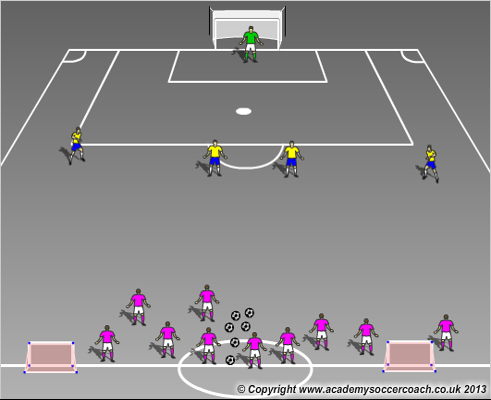 Structure:
-Set up the area as above.
Rules:
-10 attackers take a ball from the half way line and attack the 4 defenders.
-On losing possession they must return to the half way line within 4 seconds. Failure to get back will result in a goal for the defenders.
-The defenders defend the goal. If they win the ball they must put it in a goal on the half way line within 4 seconds otherwise the pinks get a goal.
-15minutes.
THEY DID NOT SCORE
THE THEORY IS 5 ORGANISED DEFENDERS ARE MORE EFFECTIVE THAN 10 DISORGANISED ATRTACKERS
If you would like to replicate these training sessions you will need the following accessories; football bibs, football cones, footballs, and football goals.