If you're part of a football club looking for sponsorship for football kits, you've come to the right place. Sponsorship is one of those necessary evils that all low-level football teams must eventually face up to. But economic hardship coupled with a lack of investment in grassroots football can make acquiring sponsorship feel nigh-on impossible. But it doesn't have to be that way. A more measured, creative and persistent approach can be the solution to alleviating your club's financial concerns. The trick is in identifying a unique selling point; something that conveys a strong message holds mass appeal and will attract publicity. All of these factors are what will ultimately convince a sponsor that you're worth investing in for X reason(s). Here at Discount Football Kits, we understand the difficulties of gaining sponsorship. It's time-consuming, stressful and downright demanding. Which is why we have compiled a complete guide on How to Spice Up Your Sponsorship Pitch.
Who to Approach for Football Kit Sponsorship?
The first hurdle you must overcome is knowing who you should be targeting your pitch towards. Here is a list of prospective sponsorship targets, which includes, but is not limited to:
Start-up companies in need of exposure
Companies local to your club's playing or base area
Friends and family that own businesses or know people who do
Franchise companies where decision-making is based within a local branch e.g. Subway, Costa Coffee
Social media can facilitate finding probable candidates with a quick and operative solution – the more creative and savvy you are, the wider your appeal becomes
Fitness & health companies who share similar sporting activities to yourselves
Schools/Colleges who can be linked through a local sports day or other school-related sports competitions
Community groups seeking joint-marketing opportunities
National sponsorship schemes/grant
This is a solid foundation on which to build from. But it's vital to note that just because each of these is a relevant candidate, in theory, that does not automatically mean they're eligible or even a correct fit for you as a sponsor. Which is where being proactive can play a role. Let's say you're looking to buy a new pair of football boots. Before you make any sort of commitment to a pair you like, what do you do? Research. You discover what makes that particular boot special from the others. Next, you identify whether they are suited to your specific needs. Then comes the search for the most cost-effective route of purchasing. There's a very meticulous process involved – as is the case when finding a sponsor. Do not waste somebody else's time, or your own for that matter, by approaching a business that is either financially incapable of supporting you or, quite frankly, never has and never would possess any interest in pursuing such a venture. Now sometimes there's no way of possibly knowing this without directly propositioning the business themselves. But more often than not, you'll find that this entire problem can be bypassed by conducting the required due diligence on prospective sponsors. You'll even gain a competitive edge over other clubs seeking sponsorship by doing so. You'll know the details of that business which can be used to your advantage when formulating ideas that cater to what appeals to them or through areas they may be lacking in. But to fully realise who appropriate businesses are, you'll first need to establish how to optimise your proposition using the resources available at your disposal.
What's In It For The Sponsor?
These people are parting with their hard-earned money. So, it's not outside the realms of reasonable suggestion that they be expecting a return on their investment. Which means only one thing: give them no reason to say anything other than yes. Companies understandably want what is beneficial to them. But the conditions aren't purely one-sided – most of the terms you'll find will be mutually beneficial for both parties involved. Take Invicta Estate Agents and their sponsorship of Faversham Strike Force FC, as an example. The club and the business are newly partnered with one another but are already reaping the benefits. For the football club, the benefits are far easier to distinguish: an injection of cash that allows them to cover necessary expenses such as kit purchasing. But the company providing the funding can also benefit massively. Invicta Estate Agents offered a referral fee to the club with the terms of them earning £50 for each successful property letting when somebody mentions Strike Force. They are then paid £150 each time somebody mentions the club and sells their property through the estate agents. This type of addition serves both parties by giving an incentive to either side in actively promoting the other partner. Lindsey Caddick, co-director of Invicta Estate Agents, explained that the partnership helped motivate their staff – not so much because of how it impacts their business, but what it does for the community. Football has ensured these children are more active and spending more time outdoors.
Maximising Your Appeal for Football Sponsorship
Shrewdness is a key asset to shoulder when assembling your proposal. There is real value in tailoring your idea to a potential investor. Here are a few suggestions for areas where this is considered possible:
Kit Colours
Utilising your kit's colours can be a unique way of creating added appeal to your team's pitch. For example, let's say there's a driving school located nearby to where your club is based. In addition to displaying the driving school's logo on your kit, a way to stand out would be to colour your kit in the style of a set of traffic lights with a red shirt, yellow shorts and green socks. This level of creativity is exactly what sponsors are looking for. An idea that will help generate talk around their business. The prospect of both local and national press coverage offers added encouragement that there will be some form of financial reward for them in the long run. Take Spanish second division side, CD Lugo, as an example. During their 14/15 campaign, the side paid homage to their sponsors, Estrella Galicia, with a home shirt that was resembled a pint of beer.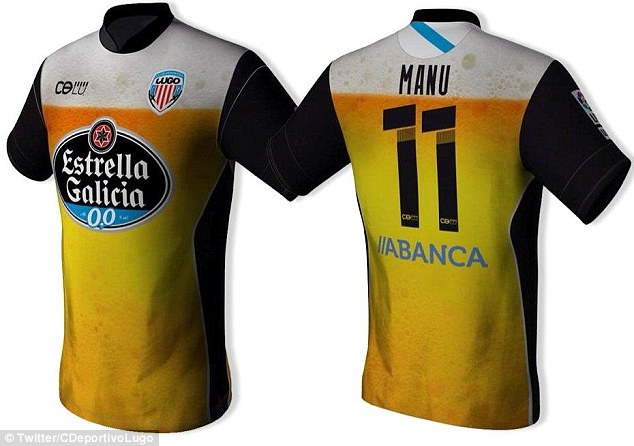 The number of articles and coverage they received as a result was staggering. A team that almost nobody had heard of previously was now sweeping the Internet. Despite not having this level of control over your shirt's design, that shouldn't cap how creative your efforts can be.
Kit Space
There is a wealth of unoccupied space on a football kit. Exploring options outside of the traditional single shirt sponsor beneath club badge and kit manufacturer logo can increase your team's sponsorship revenue exponentially. Why not implement a system that sees you charge varying amounts for advertisement across numerous spaces on your team's jersey? For example, why not approach 15 separate local businesses and offer them the chance to advertise their company name above one of the player's numbers for a small fee. If you charged say £20 per shirt, this would see you raise £300 across a set of 15 kits alone. Not to mention the fact that it leaves the main sponsor slot open which can be used to generate further income that will facilitate the purchase of accessories such as tracksuits, equipment and footballs. Swedish side Mjällby AIF's 2009 home shirt featured 13 different sponsors which didn't include any that may have been displayed on the back. Very few clubs, both amateurishly and professionally, have implemented this tactic, being somewhat to their own detriment.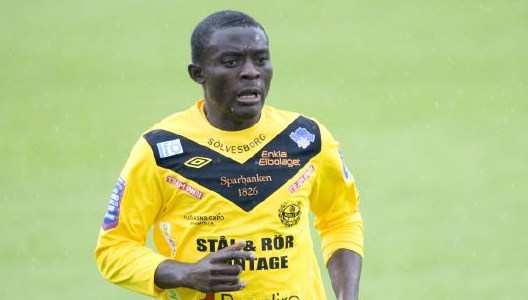 Not only can it maximise your revenue, but it can also create an interesting look for your club's shirt which obviously has broad appeal for sponsors.
Team Name
Although a complete rebranding may appear a bold decision to make on a club's behalf, there are a lot of perks that could stem from making such a choice. The continual use of a company name across all-league documentation that is viewed by a host of other clubs, managers, players and referees on a weekly basis offers a worthy return for the investor. For a club, the benefit is that the alteration would only be short-term. Rebranding for a season or two will not change the fabric of the club. In fact, it can provide a unique brand for which your team can own and flaunt its modification to great effect. Your side would be instantly recognisable to other teams in the division and possibly even within the local community too – something that can only work wonders for self-confidence. During the 1983-84 season, Coventry City chairman Jimmy Hill failed to change the sky blues' name to Coventry Talbot as part of a deal with the Coventry-based car makers. He did, however, succeed in sending them out during a televised game wearing kits on which the Talbot logo was integral to the design – making it the first sponsored football shirt in the country.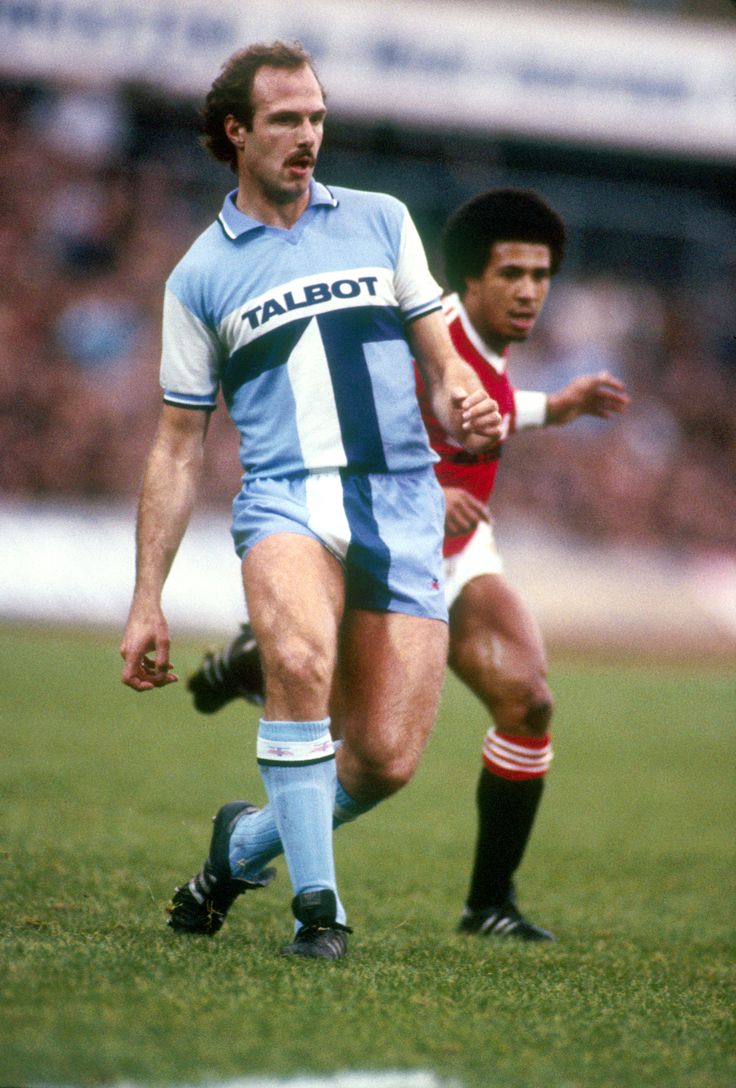 Self-Sustenance
This one is a knowingly cautious suggestion. Nonetheless, depending on your team's age group and the size of the squad, your team and/or players' parents could contribute a small amount to grant you self-sustainability. Not having sponsorship ties eradicates a lot of the hassle involved with what can prove an incredibly arduous process. There is also real appeal from a future investment point of view when it comes to this decision, too. An application looks far more impressive when a club can display tenacity and innovation in relation to covering its expenses. Your team will instantly become a more attractive proposition with this detail on your CV. This model is, however, becoming increasingly difficult to endure which has caused it to become less common as the years roll by. It truly depends on the circumstances of your club to determine whether this is a feasible option or not.
Offer Real Value
Going above and beyond for a business you are seeking finance from is standard practice. You have to consider that a deal should be worthwhile for both parties involved. And this means acting within your means. But don't immediately worry. This does not categorically spell disaster. You'll be surprised at how much a little goes a long way. If, for example, you approach a local car dealership, offering your players to participate in a charity car wash could be a meaningful gesture. This increased level of engagement could lead to amplified sales for the company, thus killing two birds with one stone. Here are a couple of simple-yet-effective ideas to help you land a sponsor:
Referral Fees – Whoever decides to sponsor you is expecting people involved with the club + other locals to use their services/buy their products based on the increased exposure. A way for your club to make extra revenue while giving added incentive to a potential sponsor is through a referral scheme. This would reward the club with a small percentage or fee for each sale made when the club is referenced. This extra revenue can help fund a host of supplementary pieces for your club from accessories to tournaments, or even an away kit.
Sponsorship Packages – Composing tiered sponsorship packages that offer different incentives in exchange for varied monetary contributions is a way to encourage multiple sponsors as a means of covering your expenses.
Receiving big press and securing sponsorship is more achievable than you believe, as one of our customers – an U9's team in Cheshire – found out with a brilliant idea to match a kit detail to their new sponsor:
Lights, Korma, Action!
A FOOTIE team are hot stuff — after being sponsored by an Indian restaurant and NAMED after curries. The under nines have top spicy meals in the space for names on the back of their shirts. Manager John Baistow, 48, came up with the idea to thank the Viceroy in Bollington, Cheshire, for providing a snazzy yellow and blue kit to his seven-a-side squad. He said: "The kids think it's hilarious. The players picked their favourites.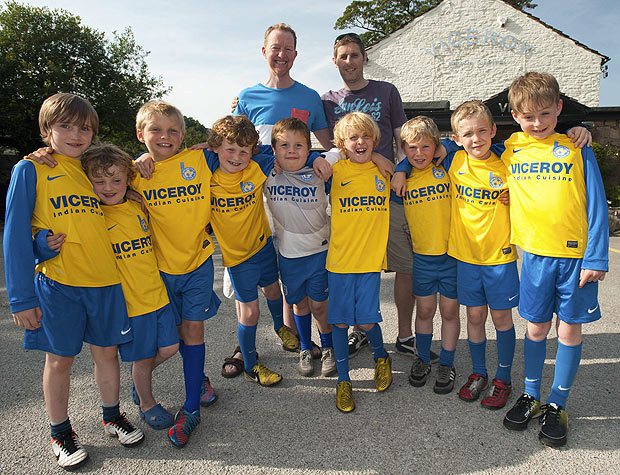 "My son Sam chose Bhuna — and we told Tom Boyd he'd be Vindaloo because he was such a hot striker. "I think they are all expecting to get free curries now." Viceroy owner Abdul Rahim, 40, said: "This has turned into a really funny way to support them." It is one of the more unique kits that Discount Football Kits have provided over the years. It also goes to show how strongly a unique idea that holds fun and humour at its core can perform. You can find the story here. Another inspirational example came from one Suffolk-based Sunday league team's brave bid when seeking sponsorship:
How To Approach Your Potential Football Kit Sponsors
Some of the tips we've shared so far may not necessarily apply to your club. Others may be used loosely and expanded upon further. But when it comes to how you approach a business, there isn't much flexibility. There are certain things that you must do to ensure your success in acquiring sponsorship.
Sponsorship Proposal Letter
Create a document that highlights who you are, how you started, where you're based, what your club is about, what its aims and achievements are, why you need the sponsorship you're asking for, and anything else you may deem suitable or worth mentioning. This formal piece can either serve as the driving force behind your campaign or as a supplementary doc used to instigate the first contact with any prospective sponsors.
Formal Contract
Drafting a formal contract is essential. Maintaining a high-level of professionalism towards your sponsors is non-negotiable. It is an area that is designed to refuse compromise. The contract should feature the company logo in the top corner and be printed on headed part to certify an exceptional standard. The real benefits of a formal contract, though, come from the guarantees it offers your club. Not only will it solidify a verbal agreement that has been made earlier, it will also ensure that your sponsor won't opt out halfway through an agreed deal.
Who to Speak to
You should never speak to the receptionist about your proposal. Half of the battle is either won or lost in ensuring that your material finds the right person. Always target general managers, managing directors or directors when contacting businesses. Your efforts are otherwise useless if you fail to contact someone with the necessary level of authority/influence required.
Call Up or Visit
Email is a big no-no. Those that send out blanket emails to companies and are successful are the anomaly. It's all too easy for these messages to be treated as spam or be ignored entirely. Instead, call up the company. If possible, visit them in person. This level of human interaction is guaranteed to offer a far greater chance of success over gambling alongside the countless other impersonal and forgettable emails these businesses receive.
Social Media Presence
Chances are your team is already active on social media. Why not go one better and start using these platforms to interact with the company you're hoping to impress? It's a simple icebreaker that is a sure-fire way to grab their attention and earn you some extra points in their good books.
Personalisation for Profile
The shirts we supplied for Bollington United are part of the Nike Classic kit that we supply to football teams across the country. The team's colours are the Nike Classic IV University Gold/Royal Blue, a hard-wearing combination that comes in 10 different sizes, from Boys X Small to Men's XX-Large. The shirts have a crew neck and mesh side panels and feature sweat-wicking DriFIT 100% polyester fabric to provide the best comfort and fit possible. One of the specialities we offer is the personalisation of kit, which is a service that Bollington United, amongst many others, have utilised. There are multiple ways that we can personalise your kit, dependent on your particular team's needs.
Printing
We offer a printing service for the display of sponsors, squad numbers and player names. This unmatched service adds a strong level of professionalism embodied at a professional level which grassroots teams constantly strive for. With our increasing number of state-of-the-art printing presses, we possess the ability to print a garment every 90 seconds – a figure unmatched by any other similar service in the country.
Embroidery
Our embroidery is perfect for those looking to emboss their club's badge onto a variety of different garments ranging from football kits to tracksuits to training wear. The embroideries are seamless and extremely durable no matter the usage. If sharing a cohesive image is what your club seeks, our embroidery can deliver this request. All personalisation is completed in-house by a dedicated and experienced team who deliver the utmost in quality, speed and efficiency. Have your own advice to share on how football clubs should go about seeking sponsorship? Leave your comments below!