So, we've put together our Discount Football Kits' dream 11. But this is not an average fantasy football team. Cobbling together the best combination of players from Barcelona and Real Madrid? That would be too easy!
Instead, this a line-up of current players that have been selected based on their characters, their personalities, their key qualities and of course, in some cases, their genuine class. This side would probably struggle to win the top honours, but they'd certainly entertain!
4-2-3-1 is the formation and here is our team:
Goalkeeper: Iker Casillas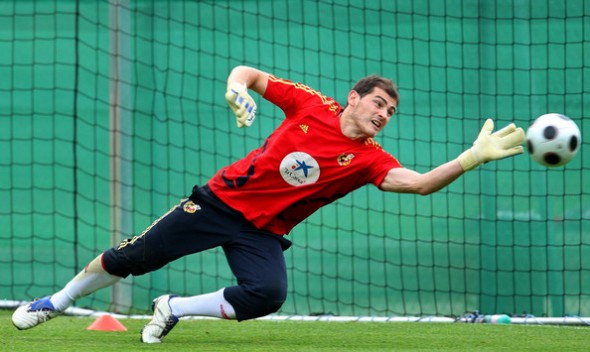 Key quality: Reliability
Ok, ok, so I've started with one of the world's best. The captain of the world and European champions no less… But every decent side needs a reliable goalkeeper, and in that sense, Casillas reigns supreme. The Real Madrid keeper is a model professional, a leader, a sensational shot-stopper, agile and consistent. The perfect number one.
Left Back: Philipp Lahm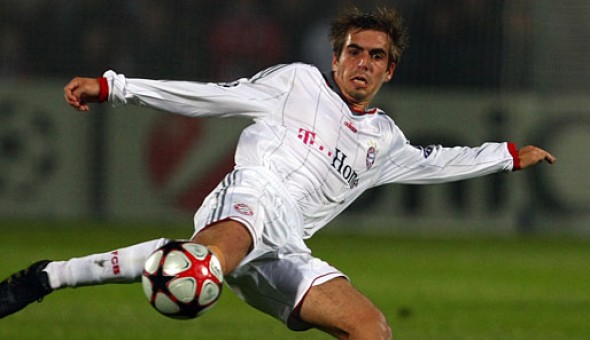 Key quality: Athleticism
Lahm has been a regular figure in the German national side for more than eight years, and his lung-busting runs up and down the flanks have quickly turned him into a fan's favourite. Capable of the occasional long-range strike, Lahm is the complete modern day fullback.
Right Back: Javier Zanetti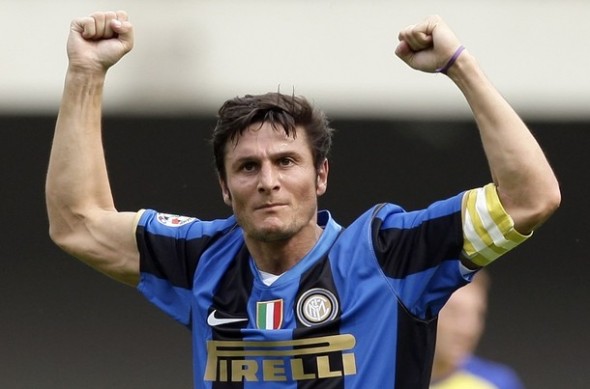 Key quality: Loyalty
Zanetti is into his 18th season as an Inter Milan player and he remains a fulcrum member of the squad, despite a major turnover of players during the summer.  Zanetti may not have the legs of 10 years ago, but he certainly adds experience, versatility (he can play on both flanks as a defender or a midfielder) and as club captain, he commands respect from football fans of all clubs (yes, even Milan!)
Centre Back: Vincent Kompany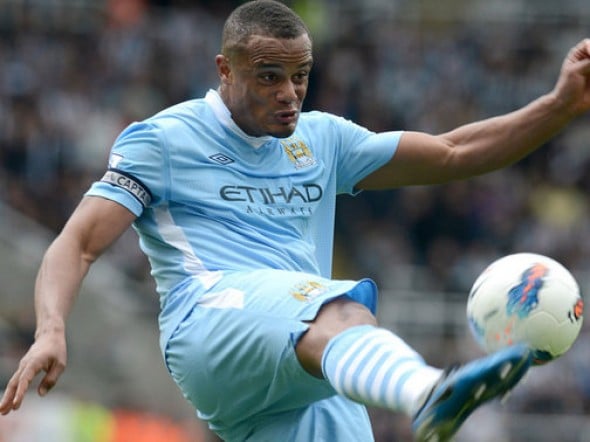 Key quality: Leadership
Although he's a little out of form right now, Kompany remains the complete centre half. Kompany possesses fantastic positional sense, pace, strength and a never-say-die attitude. In short, he has a champion's mentality. With so many egos in the Manchester City dressing room (not least Mario Balotelli and Carlos Tevez), the Belgian's maturity and strong leadership skills are an invaluable asset.
Centre Back: Phil Jagielka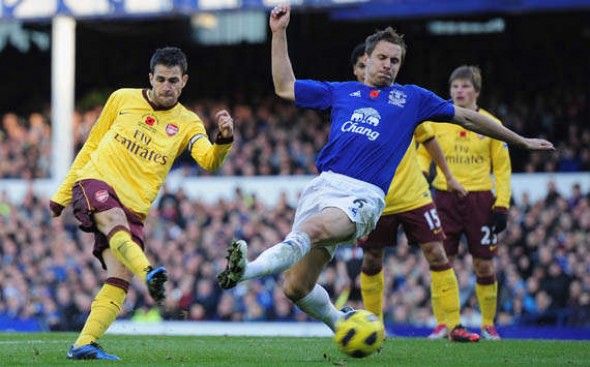 Key quality: Versatility
Once upon a time, Jagielka was stuck with the utility player tag, until his performances for Everton were such that he made it into the England squad as a bona fide centre half. But don't let that fool you- Jagielka can still fill in at right back when required and he's just as dependable in central midfield. And when needed, he has even proved to be a capable emergency goalkeeper, filling in several times during his time at Sheffield United (most famously keeping a clean sheet in a 1-0 win over Arsenal in 2006).
Central Midfield: Edgar Davids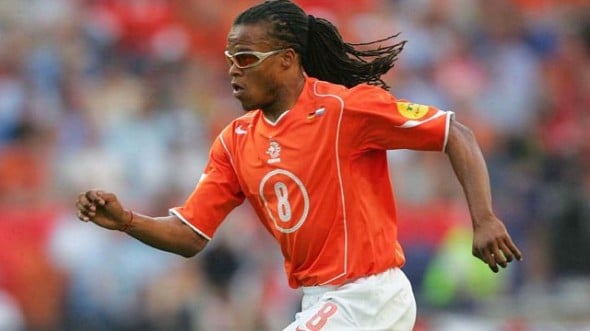 Key quality: Desire
If you like your ball winning midfielders, mean as a pit-bull (but with a touch of class), you can't go much further than the joint-player-manager (and captain) of Barnet Football Club – Edgar Davids. This is a man who clearly loves his football. He's won the Champions League, UEFA Cup, league titles in Holland and Italy, and played for a number of the world's biggest clubs, and yet he's come out of retirement to scrap for a perennially struggling League Two side. Yes he's a booking waiting to happen, and yes, he's extremely over the hill, but you know what…"it's Edgar Davids."
Central Midfield: Andrea Pirlo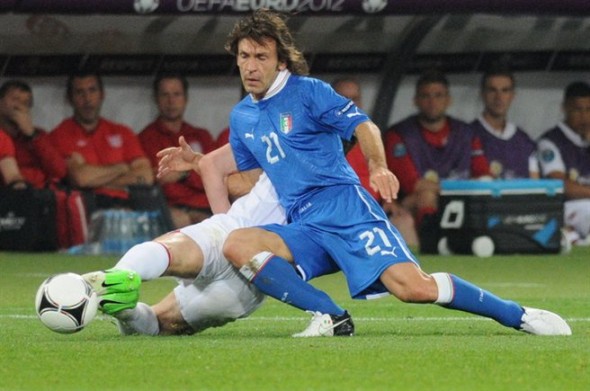 Key quality: Passing range
In the summer of 2011, AC Milan released Pirlo on a free transfer, assuming that he was washed up and past his best. He is anything but. As a deep-lying playmaker at Juventus, he has rediscovered his form and continues to dictate the pace of the game through his astonishing technical ability, creativity and imagination. Any doubters should watch the full re-run of the England v Italy Euro 2012 quarterfinal to see the master at work.
Attacking Midfield: Andres Iniesta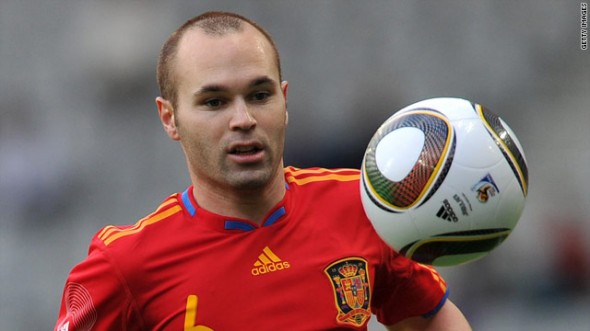 Key quality: Technical awareness
He is one half of a legendary midfield duo, which has electrified the game for almost a decade. While Xavi remains football's equivalent of a midfield metronome and/or conductor, Iniesta's role predominantly takes place in the final third. He provides a fundamental link between midfield and attack, using his dribbling skills to drift past players seamlessly, using clever touches and movement to create space and bringing others into play.
Winger: Dirk Kuyt
Key quality: Work-rate
The Dutch striker has a limited game, but for whatever he lacks in technical ability, he more than compensates through his relentless work ethic. His perseverance, work-rate and selflessness make him an ideal teammate and a perfect role model for players of all levels.
Winger: Cristiano Ronaldo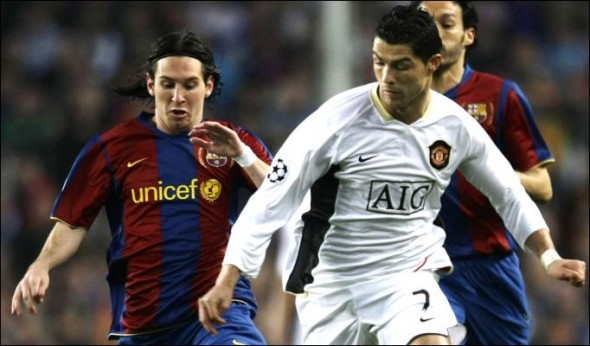 Key quality: The complete player
Ronaldo is the talisman of every team he plays for- he's just that good. He has the edge on Lionel Messi for this team, simply because his athleticism and physicality make him a slightly more adaptable player, capable of playing just as effectively under a number of varying styles and tactics. Ronaldo has a gigantic ego (that there is little doubt), but it's the same unnerving self-belief that enables him to deliver when it matters most.
Striker: Zlatan Ibrahimovic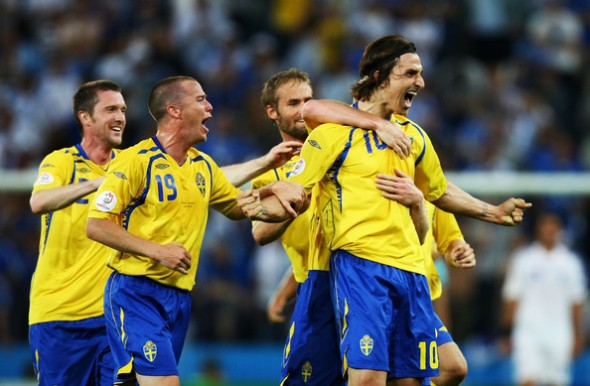 Key quality: Individualism
I think it's fair to say that Ibrahimovic has destroyed any lingering doubts about his ability to perform on the world's biggest stage, thanks to a certain four-goal display against England last week. Despite his languid style, Ibrahimovic is one of the most gifted players in the world- with a goal record, honours list and supreme arrogance to match! When asked to describe his approach to football, he said:
"Swedish style? No.
"Yugoslavian style? Of course not.
"It has to be Zlatan-style!"
 Join us on Facebook for more football talk, photos and videos. Or follow us on twitter for the latest updates and to talk some more. But if images are what you're after then check us out on Pinterest, 'cos we're on there too.