Heading into the World Cup is always a time of excitement and anticipation, but it's also one which sees certain players come under extra scrutiny. Invariably, this applies to some of the world's finest players; guys who at domestic level are demigods, at continental level are decisive…but, because of the cyclical nature of the World Cup, at international level remain unseen, inexperienced or simply not part of a good enough side to win things.
Pre-Brazil 2014, the man with the most talk surrounding him with regard to this was not Wayne Rooney (that applies only in England), not Neymar (he has far more time ahead of him, this is but his first major tournament) but Argentina's own Lionel Messi.
Perhaps because it's Argentina, perhaps because Messi shares so many traits to his game as the great Diego Maradona, or simply perhaps because of the romanticism associated with the World Cup, it has been decided (or derided, if you don't subscribe to the opinion) that Messi cannot be adjudged to have been the greatest player of all time if he doesn't win the greatest competition.
Playing for Argentina, most might think he has at least a fair, fighting chance of doing so, but the national team has been notoriously poor in the post-Maradona era—at least with regard to actually winning titles.
Not since the 1993 Copa America have Argentina won a major tournament—more than two decades, now. For a nation which has seen the likes of Ariel Ortega, Gabriel Batistuta, Diego Simeone, Juan Sebastian Veron and plenty more pass through their ranks, that is a hugely surprising period of time to have let slip by.
This iteration of the side, though, was seen as the most impressive group in some time: Kun Aguero, Angel Di Maria, Javier Mascherano, Gonzalo Higuain, Ezequiel Garay…and that's even before you reach Messi himself.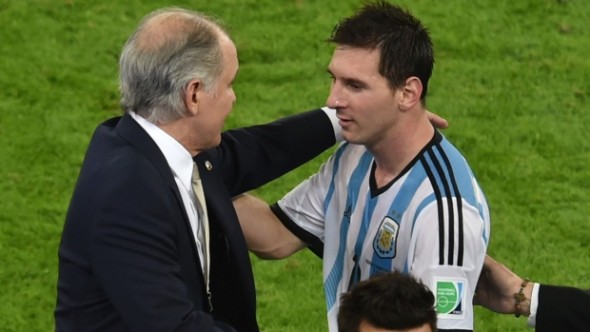 http://www.insidespanishfootball.com/
Quite aside from the devastating individual talents on show, this group was also more together than previous squads, with the omission of Carlos Tevez being a significant pointer that manager Alejandro Sabella had found a way to get the best out of Messi and was not prepared to sacrifice that for any other individual, especially one who has plenty of previous issues of destabilisation within clubs.
Sabella orchestrated a system in which Messi would have a supply line, would have support in attack and would have room to thrive on his own terrific on-ball skills.
All but in the shape of a diamond midfield, though referred to throughout as a 4-3-3 due to three genuine forwards making up the usual starting XI, Messi plays as a withdrawn centre-forward (or at the tip of the diamond) with Aguero and Higuain making space for him and running infield from either channel. Those two are required to be selfless in their closing down, off the ball movement and work rate—but are rewarded in the knowledge that they can start for their national team, play a prominent role, and will have chances on goal created for them by Messi's genius.
Behind the No. 10, Fernando Gago's probing passing and Di Maria's non-stop energy drives the ball forward through midfield, with Messi picking spaces between the lines, turning and running at the opposition defence.
It worked well in qualifying and seemed a sure-fire bet to be their system of choice for the finals in Brazil.
Until Argentina turned up in their opening game against Bosnia-Herzegovina in a 5-3-2, with Messi as one of the two up top. That was quickly altered and reverted to type, resulting in a victory over the Europeans and another in the second game over Iran.
And yet, for all their quality, for all their goal threat, Argentina have been largely poor in their three wins. They have been rescued both the first two games by individual goals by Leo Messi—the second coming in stoppage time against Iran, supposedly the weakest side in the group who would be swept aside. Nigeria put up more of a threat at the opposite end and Argentina at least saw another player score a goal, in Marcos Rojo, but Messi scored twice there, too.
The man has come through for them three times already, but the team itself has not.
But perhaps even that is meant to be, at least initially.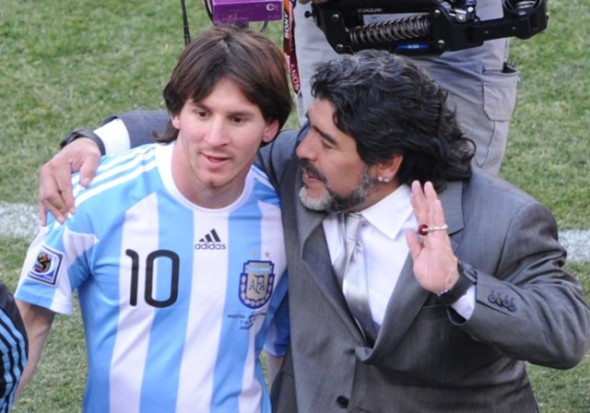 Maradona, for all his madness, his incredible ability, his achievements in the game and his stunning solo goal against England, the best in World Cup history—alright, and the other one—is remembered above all else for being the man who single-handedly won the World Cup for Argentina in 1986.
Maybe winning the World Cup alone isn't enough for Messi after all. In a great team, playing his part, maybe he would only have been one standout in a group of half a dozen. But now? If Argentina go on to achieve the unthinkable and win the World Cup in Brazil, of all places? It's Messi who has dragged them by himself through the group stage.
Maybe it had to be this way and no other, for him to be judged the greatest of all time. The next fortnight will prove much in that case.