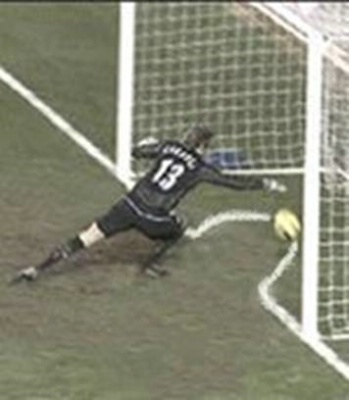 It's interesting that what would otherwise have been a low-key footballing occasion in the shape of the Hampshire FA Senior Cup Final between Eastleigh and AFC Totton, became one of the most eagerly observed games of 2012.
On May 16th, the Spitfires kicked off against the Stags at St Mary's Stadium in Southampton with the eyes of the footballing world upon them as a major trial of one of the leading systems in goal-line technology (GLT) was put through its paces.
Hawk-Eye is one of two primary systems which are undergoing a rigorous
second phase of testing
at present – the Hawk-Eye system and the imaginatively named GoalRef.
Hawk-Eye was used throughout the game for the benefit of the testers, and the system had no bearing whatsoever on the refereeing of the game. Fortunately the match did actually create at opportunity to challenge the system, as there was a slight question mark about whether Eastleigh's second goal of the 2-0 win had gone in or not.
The tests are being sanctioned by the International Football Association Board, which is made up of the FAs of England, Scotland, and Wales. And it is the IFAB, in consultation with FIFA who will ultimately decide whether goal-line technology is implemented at their Special Meeting in Kiev on July 2nd.
The arguments for and against have been raging for some years, and it seems that FIFA have been listening intently and look likely to give in to pressure from those in favour of a system being introduced being into professional football.
But is that not where one of the stronger arguments may well lie? What of the vast hordes of amateur leagues, clubs, players, officials, and fans who will not benefit from such a system?
A Google search for notable goal-line incidents reveals 'Top 10 incidents that show why we need goal-line technology' which basically struggles to recall 10.
We remember the high-profile incidents, such as Geoff Hurst's second goal in the World Cup Final of 1966, Tottenham Hotspur's Pedro Mendes' struck-off goal against Manchester United in 2005, Frank Lampard's goal against Germany in 2010, and Juan Mata's recent goal for Chelsea against Spurs in the FA Cup semi-final, but such incidents are infrequent at best.
Can FIFA really justify introducing massive upheaval to the game for the benefit of just a few?
Picture credit: My Alternative Photos