Who is going to be the next big thing in world football?
That's the big question so many people continue to ask year in, year out. With scouts continuing to scour the market for teenage prodigies to shape and mould into professional superstars, there is no short supply of excitement and wonder about the youngsters trawling their way up through the ranks.
Transforming these players from wonder-kids into world-beaters is no easy feat and there is never a perfect formula to make things work out, but every now and again a promising starlet manages to make the grade.
So, let's take a look at six youngsters who have impressed in recent times. Who do you think will make it big? Have your say in the comments section.
Victor Osimhen (Ultimate Strikers Academy & Nigeria)
The Super Eagles striker was the stand-out performer of the U17 World Cup in Chile towards the end of 2015, earning some rave reviews along the way. Winning the coveted Silver Ball award as well as scoring the highest amount of goals with 10 strikes to his name, netting in each of his team's seven matches. The youngster was a real force in and around the 18-yard box as he bossed defences with a number of convincingly clinical displays. Oozing powerful physicality, thunderous shots and smart off-the-ball running, he really stole the show, despite not being named the player of the tournament.
What's more, his ascent to double digits set a new tournament record, replacing the old one previously held by both Souleymane Coulibaly and Florent Sinama Pongolle. Now, he's being linked to a whole host of top European clubs, and Tottenham Hotspur look to be to the forefront of those interested in acquiring his signature, although some news outlets have dismissed that particular link as mere speculation.
Johannes Eggestein (SV Werder Bremen & Germany)
The 17-year-old SV Werder Bremen striker looked the complete package in his team's opening four matches of the competition as he bagged as many goals to help Die Mannschaft blow away the likes of Australia and Argentina, and he even pocketed a strike against Mexico as well. Alas, despite their early exit from the tournament, he really covered himself in glory.
Always eager to get amongst the chances, his aerial threat, combined with his close control and sharp reflexes on the ground made him a real handful for all of his Group C adversaries. Exhibiting a killer instinct to stick away the chances that came his way, his instinctive touches were evident in some of the opportunities he put away – particularly against the feisty Mexicans. Might we see him break through to his club side's first team at some point in 2016?
Marcus Agyei-Tabi (Arsenal & England)
There have been some rave reviews about the phenomenal potential of Marcus Agyei-Tabi in recent months and his recent decision to represent the England U17s, though promising for his own development, has left plenty of Irish fans very disappointed as he had worn the famous green shirt in his even younger days. Still only 16 years of age, the future looks incredibly bright for the Arsenal youth player and he could very well make some impressive strides in the months and years to come, especially considering he is at the home of youth development.
So, if the midfielder keeps his head down, works hard and manages to make the most of the opportunity he has been given with the Gunners, we should see him grow into a decent player. After all, when one can boast freestyle skills like this, it's easy to see why he's been described as a "skilful schoolboy" who has already had a huge impact at club level.
Martin Odegaard (Real Madrid & Norway)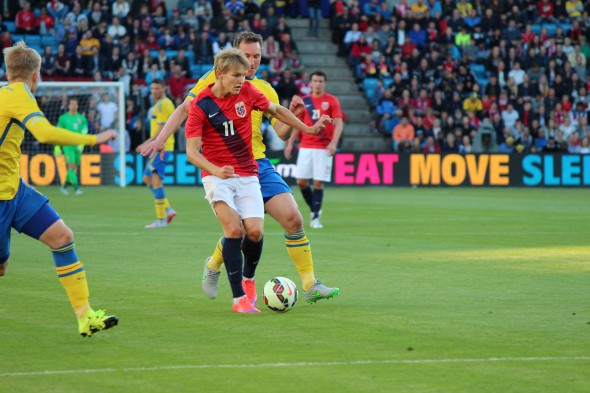 So, it hasn't been the most explosive start to life at Real Madrid Castilla for the young Norwegian, but there is still huge hope that the 16-year-old can have a major impact on world football eventually. So far, the stunted starlet hasn't been afforded the correct amount of opportunities under Zinedine Zidane, despite becoming the youngest-ever player to play for them as well as getting the chances to train with Los Blancos' first team.
All in all, his displays have underwhelmed to date, leading to a lack of headline-grabbing performances. Not only this, but he was excluded from the 10-time European Cup champions' Champions League squad this season and his country failed to qualify for Euro 2016. Nevertheless, it's obvious he is an insanely talented youngster and he is hungry to get some regular football, all of which bodes well for his future. The January transfer window could be his temporary escape route and according to reports he is keen to get away for a taste of regular football.
Jack Harper (Brighton and Hove Albion & Scotland)
For a time, Jack Harper was seen as a future La Liga superstar. Having joined the ranks of Madrid at the tender age of just 13, it looked as if he might just become that rare product; a successful Scottish export plying his trade in the Spanish top tier. Not since Steve Archibald has a Scotsman enjoyed such success there, and many dared to dream that the teenage sensation could emulate his famous countryman.
Between one thing and another, Harper has been unable to stick to his Madridista dream, as he currently finds himself on the books at Brighton and Hove Albion. It's far from a fall from grace, however, as he decided to make the decision himself; he jumped, he wasn't pushed, and that's the pivotal factor. Now, the 19-year-old has given himself the platform to play regular football, continue to sharpen his clinical finishing (which saw him net three times in the UEFA Youth League as well as netting multiple times for the various Madrid underage sides) and build up a confidence in his own abilities once more. He might not find himself in the glitz and glamour of continental football anymore, but his talent remains and that means a lot.
Fedor Chalov (CSKA Moscow & Russia)
Russia didn't exactly set the U17 World Cup alight as many expected they could, but there were quite a number of bright displays throughout their appearance to keep Russian football fans happy for the moment. Fedor Chalov bagged three goals in four appearances in Chile, but not only did he do a great job as the team's primary marksman, but he led the line with gusto and purpose. It was his reactionary presence and his quick-thinking in and around the box that really stood out, however, as it underlined just how natural a striker he has already become. Take his well-taken goal against North Korea in the group stage as clear evidence of that and it's obvious that he has developed into a fine goal-scoring specimen.