Mourinho, Guardiola, Conte, Klopp, Wenger, Pocchetino and Ranieri, the names just roll off the tongue. The premier League boasts an array of arguably the best managers in world football, but who will win the battle of the managers?
This blog will compare the managers on their previous successes, the relationship they have with their players, the style of play they implement, touchline passion and finally their use of mind games in the media.
All the managers listed are the managers most likely to be competing for the title of premier league champions, however after Leicester's miraculous achievement will another team/manager surprise everyone and climb to the top of the tree.
Trophies won
| | | |
| --- | --- | --- |
| Rank | Manager | Trophies won |
| 1 | Jose Mourinho | 19 |
| 2 | Pep Guardiola | 18 |
| 3 | Arsene Wenger | 11 |
| 4 | Antonio Conte | 6 |
| 5 | Claudio Ranieri | 3 |
| – | Jurgen Klopp | 3 |
| 7 | Maurio Pochetino | 0 |
The table above is measured on major trophies won. The quantifiable facts do not lie however in some cases we can read between the lines, some achievements cannot be measured.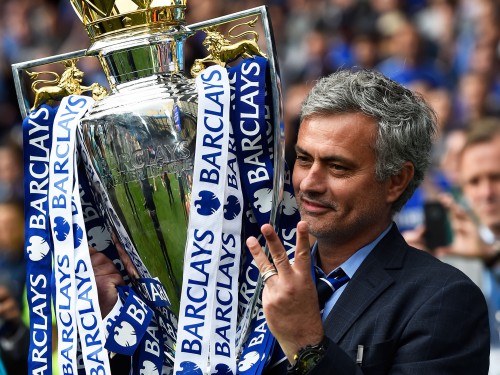 All the managers except the inexperienced Pochetino have won a major trophy, however some could argue that Pocchetino is yet to manage an 'elite club', personally I feel he will go on to become a very good manager and manage a Madrid or Barcelona side in the next 10 years, his trophies will come.
Mourinho tops the chart, yes he has won the most trophies and deserves his number 1 rank, however it is his achievement of winning the champions league trophy with an unfancied Porto which cements his place at the top, not forgetting that Mourinho has won 3 league titles in the 3 biggest leagues in Europe, the Premier League, La Liga and Serie A. His ability to adapt tactically to a new league and his multilinguistic skills enable him to be successfully across the globe.
In terms of trophy's won Guardiola is only 1 behind. Undoubtedly an excellent manager some would say Guardiola was expected to win the trophies he won with Barcelona and Bayern Munich because of the talent of the 2 squads, has Guardiola performed a miracle yet? Probably not.
Talking about Miracles and impressive achievements – Claudio Ranieri. If the table wasn't quantifiable Ranieri's achievement of winning the Premier league title with Leicester City would top the charts for sure. Could any of the other managers achieve this? Well we will probably never find out, would a Mourinho or Guardiola or even a Wenger ever follow the path of a Rafael Benitez manage a lower league side.
Smaller Miracles can be achieved, let's not forget Arsene Wenger's Arsenal side who went unbeaten throughout the whole 2003/04 season, or Jürgen Klopp's impressive 2 Bundesliga league titles in 2011 and 2012 with Borussia Dortmund overpowering the monumental Bayern Munich. All fantastic achievements which cannot be ignored, but Mourinho for me stands the tallest, 1-0 to Jose.
Player relationship
| | | |
| --- | --- | --- |
| Rank | Manager | Player relationship |
| 1 | Ranieri | 10/10 |
| 2 | Klopp | 10/10 |
| 3 | Guardiola | 8/10 |
| 4 | Mourinho | 7/10 |
| 5 | Pochetino | 7/10 |
| 6 | Wenger | 6/10 |
| 7 | Conte | 6/10 |
This was a tough one to rank. Again not quantifiable, however I based my opinions on research and what I see from the outside. Conte is at the bottom of the table, this does not mean his players do not respect him and do not play for him, they clearly do, watching Italy at the Euro's was a testament to that. Andrea Pirlo who worked with Conte once said "when Conte speaks his words assault you" The hard truth sometimes is hard to take but the ones who embrace the negative feedback go on to become the greatest.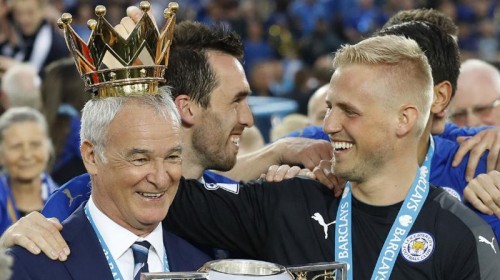 All the managers listed in the blog today all have their own style of managing player emotions and all have different ways of embracing their players. Managers like Klopp, Guardiola and Mourinho are very good at praising players in Media interviews and I'm sure they do it face to face also. Mourinho protects his players like no other, blaming himself rather than his team on many occasions, taking the pressure of his players is a technique which has brought him great success. After games Guardiola and Klopp in particular embrace their players with hugs and 'high fives' when they have performed well, some managers join in the celebrations, how can we forget Mourinho's famous run down the Old Trafford touchline to celebrate a Porto goal against his current employers Manchester United or the moment Klopp's glasses broke against Norwich city. Moments like this clearly show passion and a unique bond between the playing staff and the manager.
All 7 managers must be fantastic motivators, however topping the charts on this occasion is Claudio Ranieri. The obvious achievement of winning the league title with Leicester is the Outcome, the source is Ranieri's management techniques, his style and his ability to understand and support his players every emotion. At the time the moment Danny Welbeck scored a late header at the emirates to seal a 2-1 victory for Arsenal was the moment Leicester's bubble burst. NO. Rainieri reacted like no other manager would, instead of criticising , over analysing and making the players train harder and fix errors, he gave them all a week off, a whole 7 days to do what they wanted. Jamie Vardy said "it allowed us to forget about football and recharge the batteries".
Each individual was managed differently under Rainieri, there was no restrictions on diet, and players had individual training guidelines everything was put in place for the benefit of the group. Targets were realistic and manageable and Rainieri would create a positively charged environment throughout the whole season. His overall achievement of taking a bunch of "average" players and turning them into heroes who are idolised by all is the reason why Ranieri wins this contest hands down.
Attractive style of play
| | | |
| --- | --- | --- |
| Rank | Manager | Style of play – attractiveness |
| 1 | Guardiola | 10/10 |
| 2 | Wenger | 10/10 |
| 3 | Pochetino | 9/10 |
| 4 | Klopp | 9/10 |
| 5 | Mourinho | 8/10 |
| 6 | Conte | 7/10 |
| 7 | Ranieri | 6/10 |
We all love to watch attractive football. Style of play doesn't necessarily get you results, look at Leicester's achievement, predominantly a team who spent most of the game without the ball, yet they were the best team on the counter attack. The table is purely based on attractiveness rather than effectiveness, hence Ranieri's bottom placed finish. To play attractive football teams need to have players who are exceptional technically, players who have excellent football intelligence and understand how to move, when to move and how to rotate. Conte and Mourinho teams are usually rigid, their success is based on a platform of clear structure, players have a position and they stick to their roles. Klopp's Liverpool rotate heavily, players play with freedom, aggression and speed, Pochetino's Tottenham are also fluid and play with high tempo with lots of forward movement. Wenger's Arsenal is a team built on technique and guile rather than combative qualities. The short passing game works brilliantly against 75% of the leagues sides, 99% of passes roll across the grass, players have the ability to play off limited touches in tight spaces and more often than not Wenger's teams of late have been criticised for overplaying and trying to walk the ball into the goal. I cannot forget the goal Jack Wilshere scored against Norwich City , where he combined 3 wall passes on his way to coolly volley the ball into the corner. A truly wonderful goal which mirrors Wengers playing philosophy.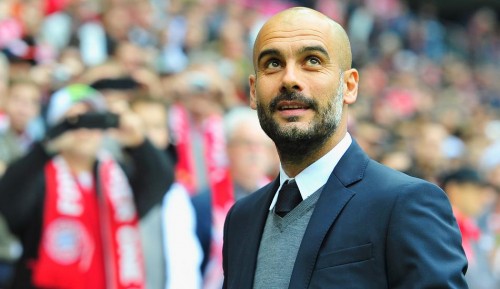 Top of the pops though is Pep Guardiola. At Barcelona he created the 'Tikka Takka' & the 'false 9' position. He proved that you didn't have to play with a central striker, in his time with Bayern Munich he had his full backs rotating with central midfielders. A pioneer, a manager who studies the game, who invents new ways of playing, a genius. His teams mirror Wengers philosophy however his style is more ruthless and has a higher tempo. His players are intelligent and brave when in possession, every pass has a secret message, every part of the build-up play from back to front is pre mediated and his Barcelona team will probably go down in History as the best side ever to play the game, for this reason Guardiola pips the post.
Touchline passion
| | | |
| --- | --- | --- |
| RB Rank | Manager | Touchline passion |
| 1 | Conte | 10/10 |
| 2 | Klopp | 9/10 |
| 3 | Guardiola | 9/10 |
| 4 | Mourinho | 8/10 |
| 5 | Wenger | 8/10 |
| 6 | Ranieri | 7/10 |
| 7 | Pochetino | 6/10 |
The neutral fan loves to see their manager on the side-line, kicking every ball, rallying the troops and organising the team. The sit down manager still exists, notepad in hand, suite and tied up. The managers in the blog today have various styles.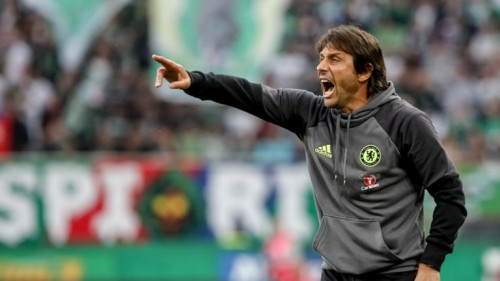 Pochetino, Ranieri and Wenger choose the more relaxed approach to management, either sitting down in the dugout or standing very calmly in the technical area. Only perhaps reacting to poor refereeing decisions. Maybe all their preparation is done beforehand and game time is down to the players. This is the reason why these 3 managers linger towards the bottom half of the table.
Mourinho's antics have actually calmed down a touch since his eye ball incident with the former Barcelona number 2 and the late Tito Vilanova, he again is choosing more to sit in the dugout these days, reacting when things aren't going his way by jumping up and down in dismay or having a quiet word with the 4th official. Big games and big moments see Mourinho come alive, his passion reignites and this is the Mourinho we like to see.
Guardiola and Klopp tend to be livewires on the side-line, tonnes of body language, arm waving, clapping, encouragement and bellowing out instructions. Conducting their teams play from minute 1 to minute 90. The players respond by running harder and faster with tonnes of energy. It's a style which matches the philosophy of both Klopp and Guardiola.
Out in front on his own and king of the dugout is Chelsea's Antonio Conte. Some might call him mad, some see it is a passion, I think it is a combination of the both. Conte lives for football, his demands are so high on himself and his players. Screaming at everyone, kicking everything but the ball, dragging his staff and subs into position around him, Conte will no doubt wear the artificial grass down at the side of the Stamford Bridge pitch. A manager who will bring undoubted energy and controversy to the league, Conte wins the battle of the touchline for me and it may steer Chelsea to glory once more!
Mind games
| | | |
| --- | --- | --- |
| Rank | Manager | Managerial Mind games |
| 1 | Mourinho | 10/10 |
| 2 | Ranieri | 9/10 |
| 3 | Guardiola | 7/10 |
| 4 | Conte | 7/10 |
| 5 | Klopp | 7/10 |
| 6 | Pochetino | 6/10 |
| 7 | Wenger | 5/10 |
Some matches are won without a ball being kicked, the best managers in the game have a way with words. By communicating through the media mangers can provoke other managers and players and try to gain an advantage psychologically over their rivals.
Before I talk about the master Jose, can I remind everyone that the English language is not the manager's dominant choice therefore their sheer intelligence to communicate regularly to the media and still manage to have a special way with words needs to be applauded.
Pochetino is Argentinian and has found the transition to translate more difficult than the others therefore his 'Mind games' seem a bit dilated compared to the other candidates. This may be the same as Conte until he gets a better grip worth the language. Wenger offers no threat to the other managers, he reacts very sorely to others that talk about him and generally 'bites' at every negative comment directed towards him which in my opinion has a negative effect on his side and gives rivals the upper hand in this department, this is why Wenger finishes bottom.
Klopp is a happy character, well loved by the media and offers very little threat in the mind games department in my opinion, he does not challenge. The interesting battle is between Guardiola and Mourinho. A rivalry secretly built on respect. Both would not agree to a friendly drink at each other's house. The rivalry stems from Jose Mourinho's time at Inter Milan where he defeated Barcelona in the semi-final on the way to lifting the trophy in 2010, his move to Real Madrid increased the heat of the rivalry. Mourinho accusing Barcelona of winning the champions league unfairly and targeting referees. Guardiola tries not to react and attempts to stay calm but I can't help but think Mourinho still holds the trump card. I'm sure this season will reignite the battle between the two.
Jose Mourinho is the master of mind games. His ability to hold press conferences and send out subliminal messages to his players and direct rivals is the best I have witnessed. His "Arsene Wenger is a specialist in failure" quote still makes me chuckle to this day. His relationship with Wenger is fuelled with comedy and cleverness. Mourinho can influence anyone with his way with words, his indirect messages hit home powerfully and for me is the master in this department. His relationship with the media is very good and I can't help but think his best days are yet to come in this department.
The only reason why Mourinho does not top the table is because of Claudio Ranieri's antics last season. Consistently taking the pressure off his Leicester players in every media conference or post-game interview. When repeatedly asked "can you win the league" his response always was "one game at a time. Who knows" he would regularly praise his rivals saying what fantastic squads they had etc. It doesn't sound like much but the subliminal messages he was sending his own players, the rivals players and opposition managers was so powerful. Filling his players with confidence, keeping their feet on the ground as well as boosting the ego of the so called "bigger" players from the elite clubs in conjunction with mocking the other managers without a hint of nattiness propelled Leicester to glory. Positive press played a huge part in Leicester's journey, towards the end every neutral was willing Leicester on, the momentum of this was all down to Ranieri's personality and relationship with the media. For me Rainieri won the battle of the mind games last season. This season could see a repeat, again Leicester have no pressure to deliver they have already achieved greatness.
Prediction
| | | |
| --- | --- | --- |
| Rank | Manager | Predicted Premier League Position 2016/17 |
| 1 | Conte | 1st |
| 2 | Guardiola | 2nd |
| 3 | Mourinho | 3rd |
| 4 | Wenger | 4th |
| 5 | Klopp | 5th |
| 6 | Pochetino | 6th |
| 7 | Ranieri | 8th |
So who will win the Premier league this season: I have chosen Chelsea, surprising to some? I just feel Antonio Conte will ruffle a few feathers, get in and amongst the egos at Chelsea. Turn underperforming players from last season into world beaters again. Expect Eden Hazard, Cesc Fabregas to be fitter than ever before, expect Chelsea to have a steely, well drilled defensive unit, mapped out to the finest detail. Conte will not be happy with anything less than 100% from his players. Although inexperienced in the Premier League Conte for me has what it takes to return Chelsea to the top ahead of the other clubs in transition.
So who wins the battle of the managers overall. Which manager excels in most areas?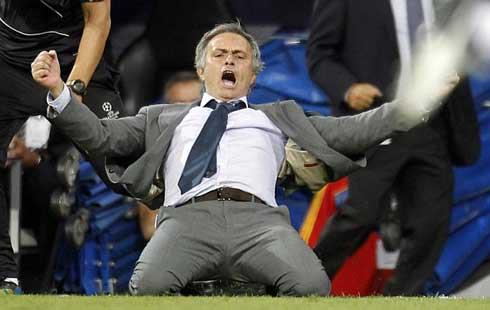 The result: Jose Mourinho