Team GB will be captained in the London 2012 Olympics men's football tournament by Ryan Giggs.
Is he the right man for the job? Who would you pick?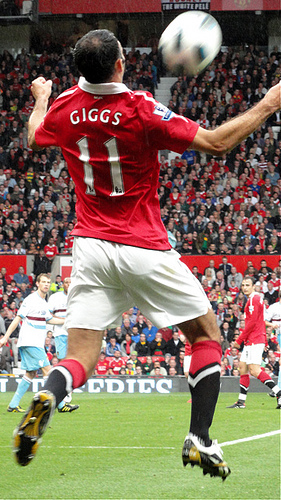 Who else would be as fitting a captain in the GB football kit as he? Although he retired from internationals in 2007, after not kicking any footballs outside of qualifiers in a tournament for his native Wales squad, he has a glorious club record.
He has been a stalwart in midfield for Manchester United over the years, winning a clutch of football trophies and football medals with 12 Premier League and 2 Champions League titles with the Red Devils. Team GB Coach Stuart Pearce has said that although there were many candidates for the position, Giggs was clearly the standout option.
As one of the three senior players in the squad it makes a lot of sense to use his experience and expertise to captain a young squad. The other two senior players are Liverpool striker Craig Bellamy and Manchester City's Micah Richards.
Giggs's first game in charge of the GB Team will be a friendly against Brazil at Middlesbrough's Riverside Stadium on July 20th, with the first competitive game to be against Senegal at Old Trafford on 26th July. Their other two group fixtures are against the United Arab Emirates at Wembley on July 29th and Uruguay on August 1st.
Team GB aren't the only country preparing to pull up their football socks and go for gold though. Spain, Brazil, and Uruguay have picked 'marquee players' as Giggs put it, and will prove to be serious competition for a GB team with high hopes. Argentina have won the last two men's Olympic football competitions, with Cameroon winning in Sydney in 2000, and Nigeria in Atlanta in 1996.
Spain won at their home Olympics in Barcelona in 1992. Hopefully that will be a good omen for Team GB in London.
Image Rights: Paolo Camera