On May 21st, 2019 we held an amazing 'Play On Pitch' event in association with Nike and Premier League club Brighton and Hove Albion FC. We invited 3 teams to come down to Brighton for the opportunity to play at the AMEX Stadium.
Football Beyond Borders, Merrist Wood College & Cox Green Sports Academy were overjoyed to take part in this amazing experience to play on a Premier League pitch.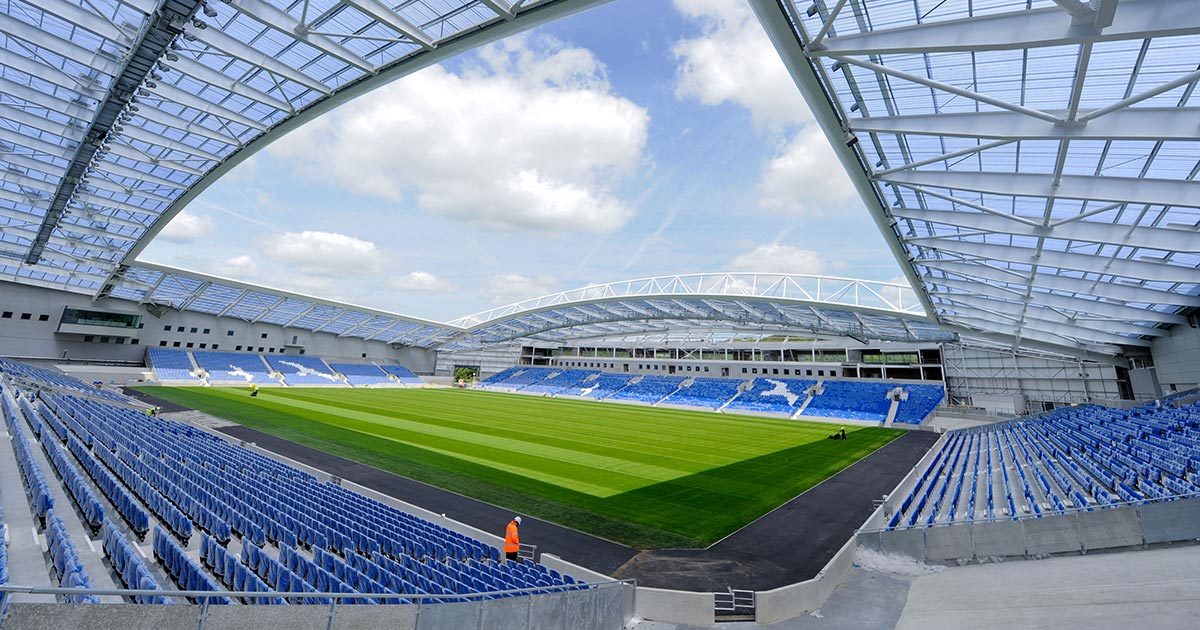 Football Beyond Borders Red
Football Beyond Borders Blue
The first match of the day kicked off at 4pm and saw Football Beyond Borders bringing 2 squads of 16 which were then split into 2 teams, red and blue. Football Beyond Borders is an education charity which uses football as an engagement tool to support young people from disadvantaged backgrounds.
The mission:
To use football to create a more equal and inclusive society in which young people from low-income backgrounds have the opportunity to develop the skills, attitude and character to succeed in education, work and public life.
The vision:
For all young people regardless of their background to feel valued, confident and empowered to become active citizens and achieve their goals and for society to provide the opportunities for them to do so. 
Match overview:
From the moment that both of the FBB teams arrived at the AMEX Stadium, you could see and feel the excitement, enthusiasm and overwhelming feeling of having the opportunity to play at a Premier League arena. That energy was replicated on the pitch and sidelines as both sides gave everything in a game that was an action-packed, end-to-end encounter with plenty of goals.
The Red's went into the break leading 6-5 after an entertainment filled first half. However, the Blue's came fighting back in the second half and in the dying embers of the game the Red's found themselves trailing. With the score at 8-7 to the Blue's and just moments remaining, the Red's gave everything and their never give up attitude paid off as they managed to equalize.
The boys and girls in red and blue embodied everything that makes football so special: hard-work, teamwork, communication, discipline and flashes of individual brilliance – and they did it all with a smile on their face. Overall, it was a fantastic afternoon and we hope that everybody from FBB enjoyed this experience as much as we did.
FT: Red FBB 8-8 Blue FBB
"Grassroots football taught me the fundamentals of becoming a footballer and was my first stepping stone into the game" – Jordan Nobbs
As grassroots' number one supporter, Discount Football Kits has consistently invested into grassroots football as well as supporting football charities across the UK.
A clear focus on quality branded goods at affordable prices, speedy delivery and great customer service have made Discount Football Kits the UK's leading supplier of everything you need to enjoy the beautiful game. We're proud of our longstanding relationship with a major brand like Nike who is known for their commitment to grassroots football supplying football kits, tracksuits, rain jackets, footballs and accessories.
Discount Football Kits was established in 1979 and were responsible for creating one the UK's first websites dedicated to supplying football kits – discountfootballkits.com has now been operating for more than 20 years. During that time we have built a fine reputation for being trustworthy and our experience and dedication has led to us becoming the UK's leading supplier of Nike football kits and football equipment.
Merrist Wood College vs Cox Green Sports Academy
The second match of the day kicked off at 7 pm and saw Merrist Wood College take on Cox Green Sports Academy.
The Merrist Wood College Football Development Centre and Coaching School provide full-time education and football programme where Students have the opportunity to take a course related to their career interests and gain an understanding of the football industry whilst developing their own football skills and performance. The college team plays in the top national league and the coaches and tutors work hard to create opportunities for the players to play outside of college.
Cox Green Sports Academy was created in 2013 with an aim to offer young people with a passion for SPORT, pathways into the Professional Sports Industry or further education. During the 2-year scholarship, Cox Green Sports Academy will help each student-athlete to view exit pathway opportunities, individuals demonstrating the necessary commitment and ability may be recommended to both semi-professional and professional clubs for trials.
Match overview:
The floodlights were turned on for the evening kick-off at the AMEX but it was the players from Cox Green and Merrist Wood that really lit up the pitch. Both sets of coaches and players prepared for the game with a competitive and well organised warm up which would set up what was in store for the game.
Cox Green looked to be heading into the break with a 2 goal advantage but Merrist Wood made it 2-1 with a tidy one-one-one finish on the brink of half-time, giving the team that extra bit of belief heading in the second half. However, that looked to be short-lived as Cox Green capitalized on a lapse of concentration from Merrist Wood and lobbed their keeper from distance.
With the score at 3-1 and Cox Green enjoying a lot of the ball it looked like an uphill battle for Merrist Wood, but as we know, football is a funny old game. Merrist Wood pegged it back and scored a magnificent curling equalizer in the last kick of the game and the Cox Green goalkeeper was sent off for disciplinary reasons. It was the number 1 for Merrist Wood who made himself the hero as he saved 3 spot kicks in the penalty shootout which lead to raptures between the players in white and green.
Overall, it was a good, competitive encounter filled with plenty of entertainment and good football. It was clear to see the footballing philosophy of both sides with a willingness to play football.
FT: Merrist Wood* 3-3 Cox Green (*Merrist Wood win on penalties)
View The complete nike range
Nike football kits are a favourite among grassroots clubs due to their cutting-edge designs and innovative technology. Nike is always seeking new ways to improve its products and this is no more apparent than in the quality of Nike football kits and the whole team wear range.