So you think you're a good footballer?
You've played with multiple teams and worked your way through all levels and age groups.  Now you see yourself as a competent 11-a-side player.
Maybe you're a battering ram of a defender, a wicked little winger or a Hollywood striker.
Either way, you're good enough on an 11-a-side pitch so how hard can playing 5-a-side be?  It's just a kickabout in the end right?
WRONG
To play 5-a-side football or Futsal at a decent level you need to be a special kind of player.  That stuff you learnt on the training pitch is all well and good but many of these skills are not going to help you when you hit the astroturf.
Here are 5 skills that you definitely don't need to be a great 5-a-side player (and what you should be doing instead) –
Pace
So fast even Gareth Bale would have trouble keeping up with you?
Great, but that's not going to help you on the 5-a-side pitch. Just where exactly are you going to run?
The smaller pitches down at your local leisure centre are just not big enough for you to get up to full speed, which you usually only reach after 3-4 seconds (over about 30 metres).
On the 5-a-side pitch you will rarely run distances longer than 10 metres.  It is your power and acceleration that is going to get you away from defenders.  To take advantage of that rocket-propelled acceleration, focus on improving your running mechanics with these tips-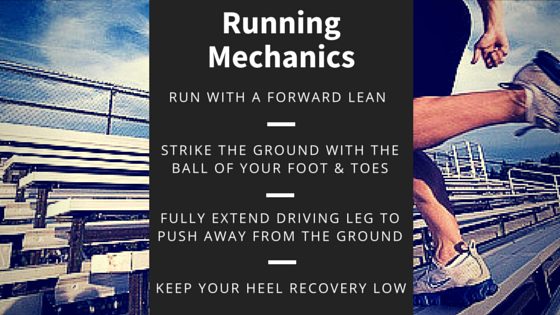 A quick and powerful burst is far more effective on the 5-a-side pitch than all-out pace.  And with the boards around the edge of the pitch, don't even think about emulating this –
Gareth Bale Goal Vs Barcelona Copa Del Rey Final 2014 English Commentary
Positional Play
See yourself as the rock at the heart of your team's defence?
Or are you more of a classic number 9?
Well, forget all that.
With only 5 players on your team there is no room for positions. Defenders cannot afford to hang around in their own half hoping to sweep up everything that comes their way. Equally, attackers will not be popular if they are playing so far up the pitch they're being marked by the opposition goalkeeper.
Either way, your team will end up outnumbered in both attack and defence.
In 5-a-side football, you are all in it together – you attack as a team and you defend as a team.  Players more suited to defending must support the attack, and attackers that hate defending need to get back and help out their defence.
Think of the game more like basketball – just with slightly shorter players.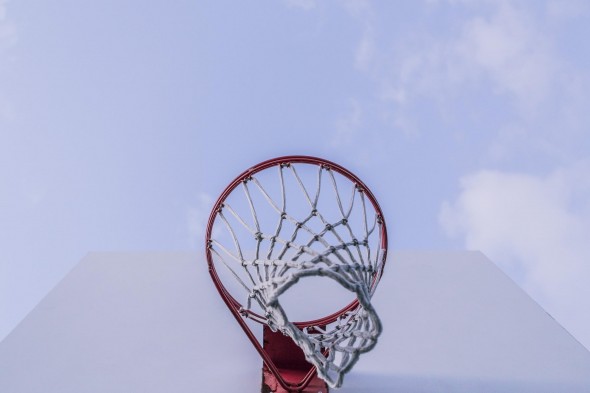 Tackling
A game-saving, last-ditch slide tackle feels as good as scoring a goal, but don't even bother thinking about it on the 5-a-side pitch.
Too many players try to emulate the 11-a-side game, focusing on one player to man-mark. Try to do this in fives and with one slip of the shoulder the attacker will leave you for dust. Your only way to recover will be to catch up with them and take them out of the game with a hefty tackle. If the ref doesn't punish you, the five opposition players will.
Defending in the short-sided game is all about positioning and teamwork. Instead of the man-marking system, your defence need to work together in a more 'dynamic-marking' system.
To pull this off correctly, follow these tips: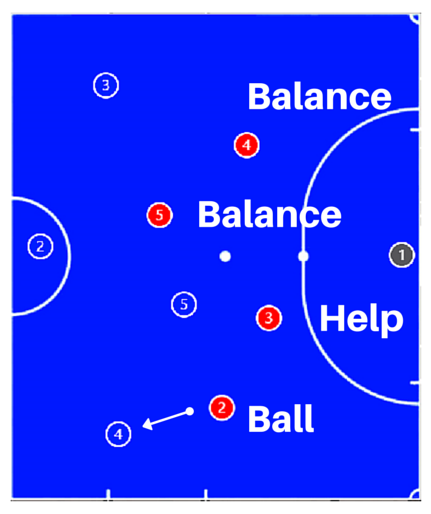 You and your teammates have to position yourself across the pitch, equally spaced to cover all space in your half
As the attacker approaches with the ball, the defender closest to them ('the ball') steps up to apply pressure.
The other defenders need to avoid being drawn too closely to the other attackers – they need to maintain their positions equally spaced across the pitch to provide 'the balance'.
This way, if the attacker with the ball beats the defender then one of the other defenders ('the help') can step up to slow down or stop them.
Alternatively, if the attacker passes to another player, your defenders are still well positioned to step up and apply pressure to the new attacker.
The idea is that there are enough defenders in good positions to support each other. Get this right and there will be absolutely no need for going to ground for that last ditch tackle.
Not only will you form an impenetrable defence, you won't need to spend the next week picking rubber pellets from the horrendous astro-turf grazes in your knees.
Heading
Is the use of your head a large part of your game?
Are you the central defensive rock, used to getting your head on any balls that the opposition have the audacity to hit into your penalty area?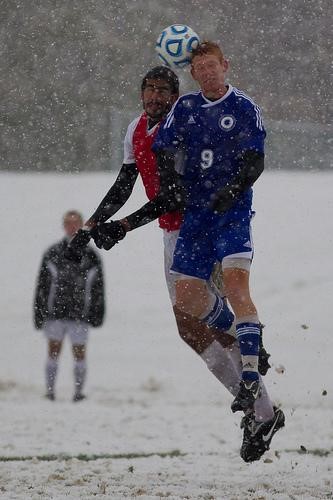 Or are you the big target man up front, picking out every ball that's hoofed up to you and carefully laying it off to your team mates?
Well, if you want to be a strong 5-a-side player then you better hope that your footwork is as good as that forehead of yours.
Despite what you may have heard, heading is not outlawed in the short-sided game.  Even so, the game is played on the deck, and 'head-tennis' is rare.
If you really want to get 'a-head' (sorry) in 5-a-side, then you need to focus on playing passes on the ground. The emphasis should be on sharp, crisp passing, quick control and rapid one-two plays to work your way through the opposition.
Forget about playing the long-ball game – it's not pretty on the 5-a-side pitch.
Set Pieces
Picture this:
It's the final minutes of the game, you're a goal down and your teammate has just been scythed down 25 yards from goal.
You grab the ball and place it on the ground.
The opposition are forming a wall in front of you, but you're not worried.
You've watched every YouTube tutorial on how to kick a knuckle-ball like Christiano Ronaldo.
You've got this.
But wait a minute!  The top of the goal is only a few feet off the ground – you can hardly see it!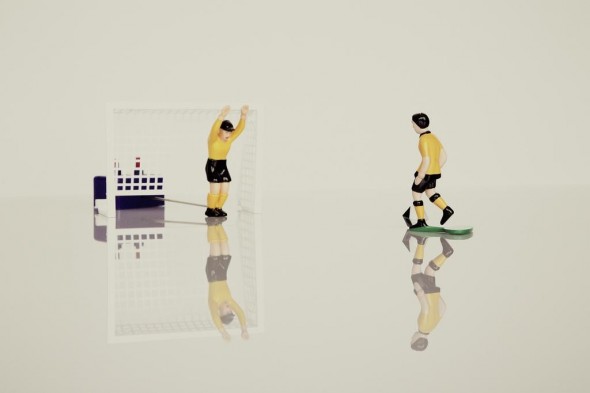 Given the height of the goals and the dimension of a 5-a-side pitch, you have no chance if you think you're going to hit your trademark free kick over that wall and still expect to score.
Set pieces in the 11-a-side game tend to involve getting the ball over a wall and either into the top corner of the goal, or on the head of one of your team mates.
If you want to be the one to take your team's set pieces on the 5-a-side pitch you're going to have to be a little more smarter than that.
Try this set play whenever you're awarded a free kick, taking advantage of the lack of offsides in the short-sided game –
Player 2 and 3 line up to take a shot, with the defence forming a small wall.
Just before player 3 begins their run-up for the shot, player 2 makes a run into the far corner of the pitch.
If a defender follows them, player 3 is left more room for the shot.
If player 2 is left unmarked, then player 3 passes the ball to them.
Player 2 then has the option of shooting or passing a lay-off back to player 3 or player 5 sneaking in at the back post.
The defence won't stand a chance.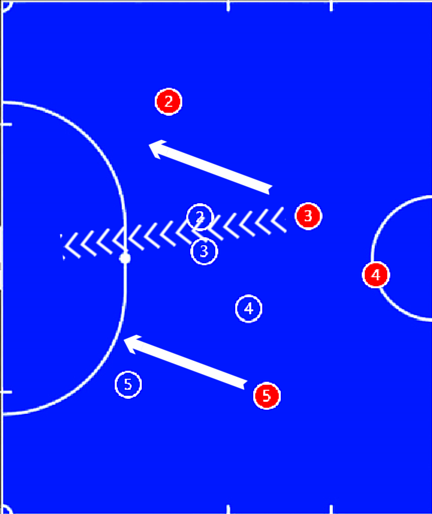 Summary
5-a-side football is all about speed, skill and energy.
Technique developed on the smaller pitch will make you a better player all-round player.
However, not all skills acquired in the full game transfer as well back to the short-sided version.
Many of the abilities that lesser players rely on (pace, strength, heading) to get them through an 11-a-side game will leave them exposed on the 5-a-side pitch.
If you really want to be a success, attributes such as close control, power, creativity and movement are the areas that you need to be thinking about.
Oh, and leave the studs at home.