Jürgen Klopp's Borussia Dortmund have lit up the UEFA Champions League this season and rightly claim their place in the Wembley final.
They're a likable outfit—financially well-run, historically great and more than pleasing on the eye—and that's lead to a number of neutrals lending their support to the Schwarzgelben for the upcoming showpiece against Bayern Munich.
Let's take a look at how Klopp organises his exciting side from a tactical perspective.
Formation, Shape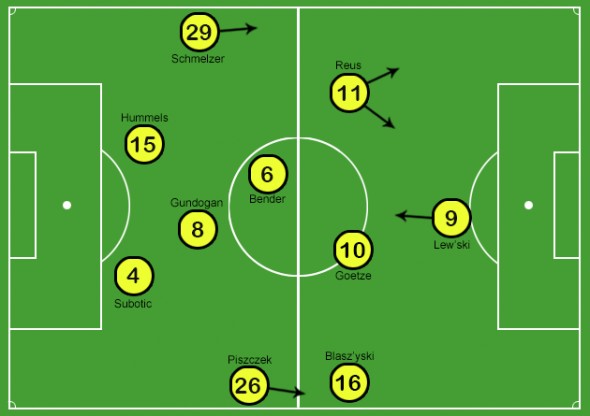 Klopp has experimented with a few different formations this season due to injury build ups, the most notable of which was the trying of a three-man defensive line in October 2012. It went terribly, and BVB were outplayed on their own turf by bitter rivals Schalke 04, losing the Revierderby 2-1.
The 4-3-3 remains an effective option where necessary, but Klopp always reverts to the 4-2-3-1 whenever he can: The base formation can be manipulated in all sorts of ways, and this gives him the platform required to tinker with tactics from game to game.
Controlling the Game Through Ilkay Gundogan
Marco Reus, Robert Lewandowski and Mario Goetze steal the headlines in the international press, but Ilkay Gundogan runs the team from his defensive midfield role.
He sits in front of the orthodox back four and controls the tempo of the game, dispending the ball to the full-backs with ease or launching it forward for Reus to run onto and create.
He arrived from Nurnberg as a No. 10, but Klopp only need 12 months to complete his success transition to a playmaking No. 6 instead.
He is defensively very able, timing his challenges well and cuts out 2.3 attacks per game.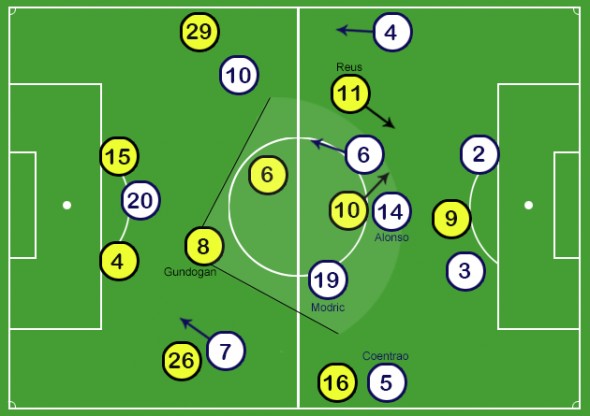 It's imperative, when playing Dortmund, to field a player who can mark Gundogan and attempt to limit his influence on the game. Real Madrid failed to do so, playing a flat 4-3-3 in their Champions League semi-final, and lost 4-1 after Gundogan had ripped them to shreds.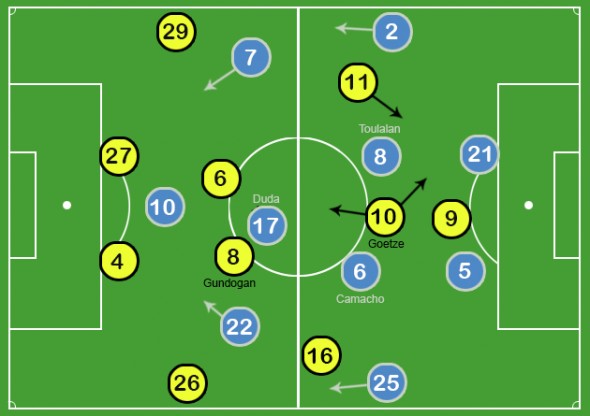 In the quarterfinal, Manuel Pellegrini played Duda centrally as a No. 10 to sit on Gundogan and limit his involvement—it worked, to an extent, as los Boquerones secured a 0-0 in Spain and were only beaten by a late flurry of (offside) goals in Westfalen.    
Incisive, Direct Attacks
Goetze is the pin-up boy of the side, and while his contributions—both playmaking and scoring—from the No. 10 position cannot be underestimated, the most exciting attacker is Marco Reus.
Robert Lewandowski, playing as a central striker, loves to drop deep/wide and receive the ball. He drifts from sideline to sideline in order to get his foot on it, then brings others into play.
The movement creates holes, and those holes are ruthlessly exploited by speedster Reus, who can take the ball from deep and run directly at a defence. Even the finest lines hit the panic button when the former Gladbach attacker gets going, and his close-control on the move is startling. Lewy rips holes in the defence, Reus runs through them. 14 goals and 9 assists for the latter this season is a nice haul, and many of them have been rather similar in their makeup.
All the team play their part in this, though, as runs off the ball take players away from Reus so he can angle a shot or a pass. Jakub Blaszczykowski's tireless wing-play should be lauded more often, while even Sven Bender puts in the hard yards to provide an option—even if his teammates largely ignore him!  
Moving the Playmaker Role
Klopp's odd use of the playmaker role is arguably the most interesting thing about his coaching style, and it's definitely something that sets him apart from many others.
Managers have always debated whether or not the label "playmaker" is healthy. Marcelo Bielsa, for example, hates to burden one player with the sole responsibility of being the creative heartbeat of the team.
Manuel Pellegrini, on the other hand, loves nothing more than a Juan Roman Riquelme-esque "enganche" who can dictate from between the lines.
Klopp uses a playmaker role, but he changes it from game to game. It's a clever strategy, and it means you'll rarely play the same Dortmund side twice.
Take a sample of Aston Villa's games and you'll see that the team is heavily, heavily reliant on Christian Benteke week after week. Without him they run into brick walls, but with him they've a chance to beat anyone.
One week at Signal Iduna Park, BVB will play through Ilkay Gundogan as a deep-lying playmaker; He'll complete X passes and control the tempo.
The next, Goetze will dictate from the No. 10 position, then the week after Blaszczykowski and Lukasz Piszczek will spend all game overlapping on the right and firing crosses into Lewandowski.
It makes them rather difficult to have a game plan for, leaving opposing managers with a prematch brief hundreds of pages of long, full of ifs, buts and maybes.  
Looking Ahead to the Final
With the showpiece coming up, analysts are doing their best to size up both Dortmund and Bayern.
They play similar formations, have similarly electric wide men and similarly strong cores in their teams. Most domestic meetings have been tight affairs, with BVB enjoying superiority, but the last win going Bayern's way courtesy of an Arjen Robben cracker.
The neutrals are behind Dortmund because it feels like "now or never" for them—on July 1 they'll lose Goetze, then later Lewandowski and perhaps Mats Hummels (to Barcelona).
Logic dictates that a dominant Bayern side will complete a record-breaking season in style, but BVB offer more than a glimmer of hope to the cup romantics: This is an unbelievable footballing side.
My prediction for the final however is 2-1 to Bayern.