A few weeks before Euro 2012 kicked off there was a lot of speculation about the safety of both the players and the fans regarding both racism and violence from the host nations.
A week in and the only problems have come from the Russian fans. How should it be handled?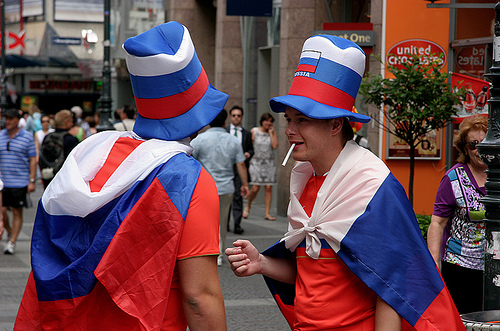 The Russian fans celebrated their 4-1 victory over the Czech Republic in their opening game by throwing fireworks around the stadium. There were also far-right political banners – something which was a major concern before the tournament.
Even more worryingly though is that there was violence by the Russian fans against the stewards of the game, leaving four of them hospitalised. Clashes with the Poland fans before Russia's game against the co-hosts were expected as the two have one of the fiercest rivalries in international football.
Polish police had to use force to separate both sets of fans, although there is no sign of this 'sonic cannon' that supposedly makes those in the vicinity wet themselves and drop their football accessories on the ground. At least not yet.
The good thing about these tournaments is that it's usually easy to identify which country the culprits are from, because they are wearing their football team kits.
This has led to UEFA penalising the Russia by giving them a suspended 6-point reduction – which could come into effect during the Euro 2016 qualifying campaign. This would make it extremely difficult for Russia to qualify depending on their group.
UEFA has also fined the Russian Football Union £96,000 (€120,000). The Russians will decide whether or not to appeal against the punishment over the next couple of days.
This has been the isolated case of violence or racism throughout what has been a generally superb tournament so far. There was an accusation towards the Dutch team whilst training before their first game, but nothing has been proven. The Dutch team simply moved all of their football training equipment over to the other side of the pitch.
Image Rights: astique